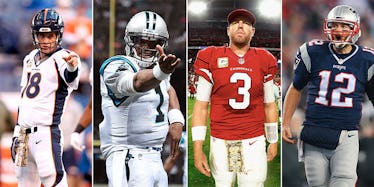 What A Super Bowl Win Would Mean For Each Remaining Quarterback
Getty Images
The best part about the weeks leading up to the Super Bowl is the abundance of passionate opinions that begin to circle the Internet.
Every hour there are new memes making fun of different playoff participants, followed by intense arguments in the comments sections of social media posts.
And that's because we're getting down to the best of the best.
Everyone has an opinion about why Carson Palmer is the most underrated QB in the NFL, or why Cam Newton isn't a good role model for young athletes.
But on February 7, all that will matter is who is holding that Super Bowl 50 trophy.
Let's take a look at what that big win would look like for these four one-of-a-kind quarterbacks:
Carson Palmer
Carson Palmer is a very well-respected quarterback and athlete.
He won the Heisman trophy back in college, and last Sunday, he won his first playoff game ever.
He also finished the regular season first overall in yards per attempt, and a passer rating of 104.6 while leading his team through a tough 14 to 3 season.
Coming off what might go down as Palmer's best season ever in combination with a monumental win over Aaron Rodgers and the Packers, there's no doubt Palmer is hyped.
After exceptional hard work and team leadership this season, a Super Bowl win is just what Palmer deserves.
It would brand him as a winning, ring-wearing quarterback, which is all many players could really ask for.
And at his age, this win could be a first and a last.
Cam Newton
Enter: another Heisman trophy winner. This one just chooses dabbing over hugging.
I can't think of another quarterback that's created more hype for himself than Cam Newton has this year.
The dude is a (tall) ball of energy and people love it.
If you told me at the beginning of the season that Cam Newton and his squad were going to have the offensive chemistry that they've been showing the last 17 games, I would've looked at you like you had six heads.
But they did it, loud and proud.
Newton is young, and although some might be turned off by his level of confidence, you can't really blame him. He almost led the Panthers through a perfect season, and is gunning for his first ring.
A Super Bowl win for Newton would mean that he led the Carolina Panthers to their first Super Bowl title.
This would be a pivotal moment, and many should be forecasting that he has an amazing career ahead of him.
Peyton Manning
This dude has years of great stats, but only one ring.
He's the player with on-and-off injuries all season.
He's the guy who annoys us more with his sing-along commercials than his desperate need to retire.
My apologies, I'm a little biased.
He's probably a great, family-oriented, well-rounded individual.
But in all seriousness, this very well could be his last stab at a Super Bowl ring.
And who better to go up against than TB12?
The BradyManning rivalry is one of — if not the — most talked about quarterback rivalry in the history of football.
Brady is 11 to 5 against Manning in all of their match-ups. And Brady has three more Super Bowl rings than Manning.
A Super Bowl win for Manning would mean he could walk out of his career in peace, along with some of the most impressive stats ever and two Super Bowl rings. But most importantly, it would mean he got there while passing through Brady.
Tom Brady
This one's easy. Tom Brady is arguably the greatest of all time, the #GOAT, if you will.
After winning last year's Super Bowl, he's tied Joe Montana and Terry Bradshaw for having four rings.
During the off-season, instead of spending his time eating freakishly clean on the beach with supermodel wife Gisele Bündchen and his children, he endured a spell of suspension, negative press and court dates.
Thanks, #Deflategate.
A Super Bowl win for Brady would mean he would be the first ever QB with five Super Bowl titles, easily landing him the greatest quarterback of all time title.
It would also be a nice f*ck off to Roger Goodell and all #Deflategate enthusiasts.