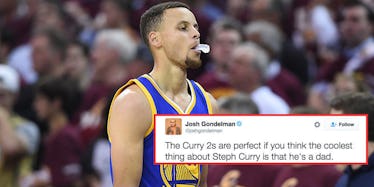 People Can't Stop Making Fun Of Steph Curry's New Under Armour Shoes
USA TODAY SPORTS
After being practically untouchable for the past two years, Steph Curry finally caught some Ls.
On Wednesday night, his Warriors got embarrassed by the Cavs via a 30 points lose in Game 3 of the NBA Finals. By Thursday morning, critics were accusing him of being a faux MVP and living up to the expectations of a big-time player. But both of those are nothing compared to what happened Thursday afternoon when these bad boys dropped.
The reaction to the release of Under Armour's Curry 2 low tops was pretty unanimous and could be summed up in one vine:
At first, people gave the Curry 2's a collective laugh.
But then, all hell broke loose.
When everyone decided to find a new name for the kicks, it was a wrap.
By the end of the night, the internet came to its conclusion: Only retirees, suburban dads and nurses would wear these.
And now, the finisher.
Under Armour Chef Curry 2 Theme Music https://t.co/G2yA1k4sdh — Matthew A. Cherry (@MatthewACherry) June 10, 2016
Goodnight.
Citations: Complex