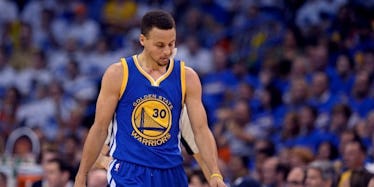 Steph Curry Just Bailed On The US Olympic Team For An Unexpected Reason
USA TODAY Sports
According to reports, Golden State Warriors superstar Steph Curry will not play for USA Basketball at the upcoming Olympic Games in Rio.
Now, you may be thinking this has something to do with growing fears surrounding the Zika virus, but according to Curry and the Warriors, the 28-year-old's decision has nothing to do with that.
Curry has reportedly decided to forgo the Olympics in order to rest the right knee and ankle he injured during the earlier rounds of the NBA playoffs.
At the moment, Curry has his Warriors up two games to none against LeBron James and the Cleveland Cavaliers in the NBA Finals. Both games have been something of a blowout, with the Warriors winning Game 2 by an astonishing 33 points.
Curry and Golden State released the following statement regarding the point guard's decision not to go to Rio.
While this decision may not sit well with NBA fans across the globe, it's one Warriors fans will almost certainly be thrilled about. The last thing anyone in the Bay Area wants is to see such a star player get hurt in what many might even consider a meaningless tournament.
According to reports, LeBron James and Russell Westbrook could mimic Curry's decision not to represent the United States in Brazil. It's unclear whether or not their decisions would be based on Zika virus concerns.
Citations: Stephen Curry won't play for Team USA at Rio Olympics (The Washington Post)