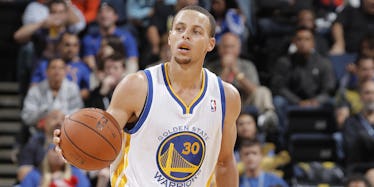 Steph Curry Has The Chance To Accomplish Something Michael Jordan Never Did
Getty Images
Golden State Warriors point guard Steph Curry is simply playing on another level.
The 27-year-old, who first made his way onto the scene by leading Davidson to the Elite Eight in the 2008 NCAA Tournament, is among the frontrunners for this season's MVP Award, and he's led the Warriors to the best record in basketball.
This season, the baby-faced assassin has the second-best field goal percentage among point guards -- he trails Chris Paul by five thousandths of a point -- but it's his immeasurable ability to hit tough shots in big moments that makes him stand out from the rest.
He does this on a regular basis.
And should Curry be crowned MVP, he'll do so with the second-highest three-point percentage (.435) of any recipient in the award's history.
Steve Nash's percentage was .439 when he won the award in 2006, but Curry ain't worried about being second-best to the two-time MVP.
Even though Curry's ability to sink shots in the clutch has made him a standout, the NBA has always had its share of silky shooters.
What makes Curry special, in addition to his high shooting percentage, particularly from three-point range, is his crossover and handle that would make Allen Iverson jump out of his seat.
Seriously, he put all of Los Angeles in the spin cycle.
And where you going, Jeff Taylor?
This season, the sixth of his NBA career, Steph Curry is averaging 23.6 points, 7.7 assists and two steals per game.
He's shooting a shade over 48 percent from the field and 43.5 percent from beyond the arc.
When Michael Jordan won the first of his five regular-season MVP Awards in 1988, he averaged 35 points, 5.9 assists and 3.2 steals a game. He shot 53 percent from the field.
What Jordan did not do during that season was lead the Chicago Bulls to the NBA title.
In fact, after narrowly making it to the Eastern Conference Semifinals, the Bulls were bounced in just five games by the Detroit Pistons.
There's obviously no guarantee the Warriors will win a championship this season.
Even though Golden State will be making a playoff appearance for the third consecutive year, they haven't won a championship since 1975. It is not easy to win a championship, particularly in a period when the NBA is dominated by superstar alliances.
But, that point only furthers the case for Curry as league MVP.
The Warriors' current starting five has an average age of 25.8 years. Other than backcourt partner Klay Thompson, Curry is the only starter to ever be selected to an All-Star game.
During Curry's rookie season, Golden State finished with a record of 26-56. Five years later, the team is 63-14, leading the second-place Houston Rockets and fellow MVP candidate, James Harden, by 10 games.
The 63 wins in 2014-2015 became a franchise record for the Warriors, and they still have five games remaining in the regular season. Before an April 5 loss at San Antonio, Curry and Co. were winners of 11 straight games.
There may be no 'I' in team, but the Golden State Warriors' rapid rise from irrelevance to supremacy is due, in large part, to the emergence of Steph Curry as one of the game's elite players.
As great as Michael Jordan was, not even he could master the feat of coupling his first MVP Award with a Chicago Bulls championship.
In fact, you have to go back to Shaquille O'Neal in 2000 in order to find a player who won an MVP award and a championship in the same season.
And you have to go all the way back to Larry Bird in 1984 to find a player who won his first of multiple MVP Awards coupled with a first NBA title.
You may think this distinction is insignificant, but in an era when there's an ever-increasing emphasis on stats and the conversation inevitably turns to comparing individual greatness, Steph Curry could get a head start in separating himself from the pack.
If you watch the NBA with any regularity, you know how good he is. And when you put into context the season Curry is having -- not just in terms of individual numbers, but with how he's elevated the play of an entire franchise -- you realize what a unique talent he really is.
The best team during the regular season isn't always the last one standing in June, but should the Warriors manage to win it all, Steph Curry will have a real opportunity to differentiate himself from his most recent contemporaries -- as well as the greatest basketball player of all time.
Citations: Stephen Curry (Basketball-Reference.com), NBA Player Field Goal Shooting Statistics - 2014-15 (ESPN.com), NBA & ABA Most Valuable Player Award Winners (Basketball-Reference.com), Michael Jordan (Basketball-Reference.com), 1987-88 Chicago Bulls Roster and Stats (Basketball-Reference.com), Golden State Warriors Roster (ESPN.com), Golden State Warriors Franchise Index (Basketball-Reference.com), 2014-2015 CONFERENCE REGULAR SEASON STANDINGS (NBA.com)