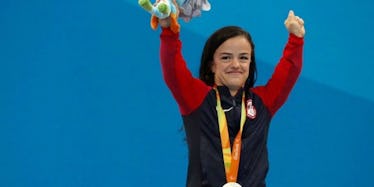 Paralympian's Amazing Reaction To Winning First Olympic Medal Is Pure Gold
Joe Kusumoto/USParaSwimming
Look, I'll be the first one to admit once the closing ceremony took place in Rio on August 21, I pretty much stopped caring about anything pertaining to the 2016 Summer Olympics.
I made a mistake, and I have a hunch I'm not the only one.
At the moment, the Paralympics are happening in Rio, Brazil, and if the below video is any evidence, then we're missing out on some of the greatest moments in sports this year.
Thursday night, American swimmer Sophia Herzog took home a silver medal in the 100 meter SB6 breaststroke race, and her reaction to winning was absolutely amazing.
Are you done crying? Yeah, me neither.
In the video above, you can hear NBC's Heather Cox ask Herzog if winning her first Olympic medal was as good as she thought it would be, to which the Paralympian replied while holding back the tears,
It's so much better. I can't believe I did it. I worked so hard for this, for two years. I moved to the training center... This is what we live and eat and breathe to do. We train nine times a week... so good that it's finally paid off.
As UPROXX points out, it's beyond sad Herzog had to tweet this video herself. What's good, NBC? Y'all flooded my timeline when it was Michael Phelps and Usain Bolt's time to shine.
Where is the love for Paralympians like Sophia Herzog? What more do these courageous athletes have to do?
Shame on all of us. I think it's time to start giving all our Olympians the attention and respect they deserve.
It may be Michael Phelps and Katie Ledecky who get to sit on the late-night tv couches and join the set of "Good Morning America," but this brief video proves Sophia Herzog and her fellow competitors deserve the same celebrations and opportunities.
Citations: This American Paralympian's Reaction To Medaling Is What Makes Sports Great (UPROXX)