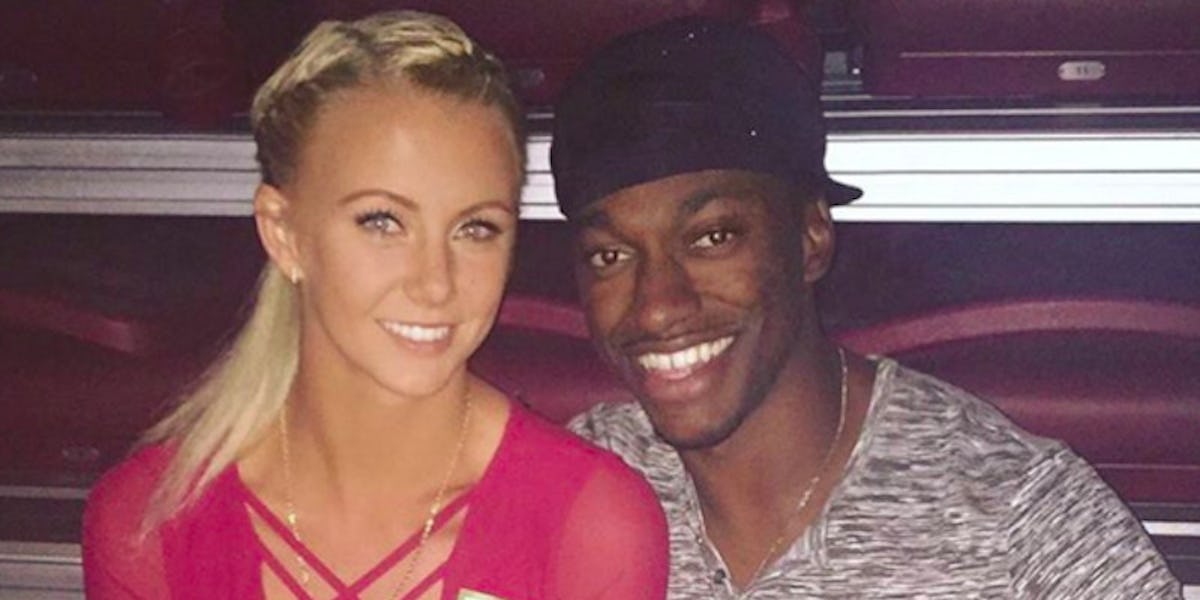 Someone Stole Cash From Robert Griffin III And GF In Team's Parking Lot
Instagram
They say bad luck comes in threes. So it makes sense Robert Griffin III's streak shows no sign of waning.
The Cleveland Browns quarterback allegedly had all his and his girlfriend's money swiped from their wallets.
Grete Sadeiko tweeted about the theft on Sunday.
She said they'd parked up in the players and family parking garage at the Browns game at FirstEnergy Stadium. The two tweets read,
So you valet your car for a @Browns game and come back to all of you and your boyfriends money being gone from the wallets. Ain't about why we left wallets in the car we parked in PLAYERS AND FAMILY PARKING GARAGE! I should be able to leave anything I want there.
The Browns lost 13-27 to the New York Giants, just to add insult to injury.
RG3 filed for divorce from Rebecca Liddicoat earlier this year. They met in 2009 through mutual friends and were engaged in October of 2010, but waited until he was drafted to get married.
On May 21 of last year, the couple welcomed their child. But months later, RG3 was linked to Estonian beauty and Florida State heptathlete Sadeiko.
The breakdown of RG3's marriage was messy, and it was claimed at the time Liddicoat was "blindsided" by the divorce, according to TMZ.
This year things heated up between the NFL star and the track athlete. He was even spotted with what looked like a "Grete Sadeiko" tattoo on his right forearm.
It is thought the couple first made contact back in January this year on Instagram.
One of Sadeiko's biggest athletic achievements was her participation at the 2010 World Junior Championships in Moncton, Canada. She came in fourth with 5,705 points.
The 23-year-old regularly posts on Instagram about her sporting and personal life. Hint: It's a pretty underrated celeb Insta, so start stalking.
Citations: Complex