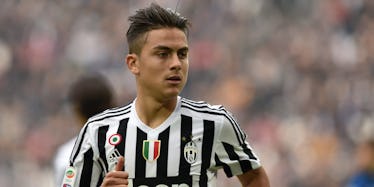 13 Soccer Players With The Freshest Haircuts In The Game
Getty Images
I'll never forget; the best haircut of my life came in Barcelona, when this Spanish dude literally came TO my friends' study-abroad apartment with a pair of scissors and cut my hair in their living room.
"Do you want an axe wound," he asked me.
Needless to say, I was kind of appalled. An axe wound? I had no idea what an "axe wound" was -- outside of vulgar slang -- so I asked him what he meant.
He pointed to the line that was etched into his own hairline, you know, similar to the one Larry Johnson had when he played for the Hornets in the mid '90s (except less centrally located on the forehead). Oh, that -- the "line."
Obviously, I said yes.
The second-best haircut of my life came in London, about a month or two after graduating from college. My friend and I purposely didn't get haircuts for weeks prior to coming to Europe, with the sole intentions of getting a fresh "London cut." And that was exactly what we did.
"Do you want a Bale?" the woman asked me, as she finished up my sides.
What the f*ck is a Bale? A Bale of what? She pointed to the line that was etched into the hairline of the stylist working on my friend, at the chair next to me. Oh, that. I realized she was referring to Gareth Bale -- who had recently fled North London for Madrid.
Again, obviously, I said yes.
Despite having slightly different vernaculars for their hair-styling excellence, it's no surprise that two of the best haircuts I've ever gotten came in two different European cities. Anyone who watches football -- and, by football, I really mean soccer -- on a weekly basis understands how seriously European lads take their lettuce.
Surprisingly, in the time that's passed since I was last in Europe, I've actually noticed that some of this style-consciousness has rubbed off on Americans. Now, every corner you turn in Manhattan, it's likely that you'll spot a dude wearing Zara with a trendy European-looking haircut.
But, still, it's not the same.
Trust me, I've gotten numerous haircuts stateside and have asked for both "axe wounds" and "Bales" -- and they've simply never been able to hold a candle compared to the true European way of doing it.
It's funny -- lately, my hair's been resembling Jim Morrison, and people keep asking me if I'm trying to grow a "man bun." The answer to that question is no.
I'm just deplorably lazy, for starters, but I'm also waiting for the next time I go to Europe, so I can actually get a quality cut. I'm not sure what style I'm going to go for, at least not yet, but I've got a few options in mind -- for whenever that day comes.
Here are 13 football players with magisterial haircuts who just might serve as inspiration.
1. Marco Reus
The 26-year-old midfielder from Dortmund, Marco Reus, has one of the most classic footballer hairstyles in the world. He's got the swept-over-top and tight fade on the sides. I think he might even have some highlights on the top, Here are 12 football players with magisterial haircuts who just might serve as inspiration in the Premier League this season.
2. Leroy Sané
20-year-old German Leroy Sané is one of the most promising players in all of the Bundesliga. During matches for his club, Schalke 04, Sané is known to wear his hair in a variety of different ways -- from Latrell Sprewell braids to a poppin' ass afro.
3. Graziano Pellè
Graziano Pellè's hair is a work of art. I'm not sure how much mousse he puts in before each match, to ensure that every hair is in its right place -- but it has to be a lot. Pellè, one of the best goal scorers in the Premier League, is clearly focused on scoring off the pitch too.
4. Paul Pogba
Pogba clearly has got swag; anyone who's ever seen him play football knows this. He's got insane skill with the ball and can launch shots from pretty much anywhere on the pitch.
But his game isn't to be outdone by his own style. His signature look is a spiked-up mohawk with dyed-blond highlights and etches in the sides -- but this past weekend, against Roma, he showed off his new joint: a mohawk with cheetah imprints on the sides.
5. Raheem Sterling
Sterling has caught a bit of flak lately as a result of his new hairstyle, but personally, I respect his ambition.
Although I've seen some memes drawing comparisons to Whoopi Goldberg, I think the braids are fresh. He looks like he could be the athletic third member of Rae Sremmurd or something.
6. DeAndre Yedlin
Yedlin, one of the few Americans on this list, has been getting major minutes for the Premier League club, Sunderland, in 2015-2016. And whenever he's on the field, you can best believe all eyes are on his hairstyle -- which is one of the zaniest in all of English football.
It used to look like there was a light-colored critter on top of his head -- and it had a little Trump-thing to it – but it's still unique and certainly scores originality points.
7. Stephan El Shaarawy
"The Pharaoh," as they call him, has been playing professional football since he was 16 years old. The Italian-born Egyptian is famous for both his skill as a player, as well as his eccentric hairstyle.
I'm not sure how, exactly, he does it, but El Shaarawy gets his hair to stand up perfectly straight -- à la Gerald from "Hey Arnold!" -- for entire football matches, in spite of the elements.
8. Olivier Giroud
"Boy Band" Giroud has been having an incredible season for the Gunners, as they quest for their first Premier League title since 2004. Aside from being a key part of their attack, Giroud also flaunts a world class haircut.
9. Cristiano Ronaldo
Ronaldo is the reigning back-to-back winner of Goal.com's "Salon D'or" -- or the "best haircut of the year" award in football.
It shouldn't really be too surprising that Ronaldo is on this list because, well, he's Cristiano Ronaldo. That line in his hair is simply iconic.
10. Neymar
Neymar's kind of interesting because he's clearly going through a transitionary period with regard to his hair in 2016.
He's shaved most of it off, right now, but when he's in top hair form, he sports one of the most distinct and creative hairstyles in world football. In fact, I'm not even sure how he does it.
11. Yannick Ferreira Carrasco
Atléti's starlet winger has a very strong head of hair. After dipping Ligue 1 for La Liga, the 22-year-old Belgian has made his presence known, rocks a variety of flamboyant hairstyles, including man buns and super high fades.
He's one of the most exciting players in La Liga, and his hairstyle usually follows suit
12. Antoine Griezmann
Little Antoine Griezmann is one of the most precise goal scorers in the world. In addition to his scoring ability, his hairstyle is also usually on point. Although in 2016, we've seen him go for a more subdued crew cut, last season he was rocking a platinum blonde dyed do' that wasn't to be outdone.
13. Paulo Dybala
Dybala, Juventus' young starlet, sports one of the neater haircuts in world football. With some stellar flow on top, Dybala rocks the sides completely shaven (half-mohawk running down the back of his head, optional.)
One of the my favorite players in the world, Dybala also rocks one of the freshest hairstyles out there.