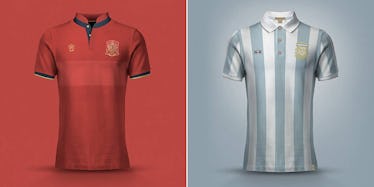 Soccer Jerseys Reimagined With Popular Fashion Brands Are Incredible (Photos)
The culture of soccer jerseys and fashion has been an emerging one in recent years, and this latest creation takes that concept to a whole new level.
Recently, Argentinian/Italian artist Emilio Sansolini took a stab at redesigning national team soccer jerseys based on the style of a popular fashion designer from each country.
And let me tell you, Sansolini most definitely hit the mark.
Using the likes of Armani for Italy and Fred Perry for England, Sansolini's designs are eloquent, understated and perfectly aligned with the look of each brand.
Sansolini's La Martina-inspired Argentina jersey is a definite winner...
...as is his yellow and green Reserva Brazil shirt.
The English FA and Fred Perry should seriously consider a partnership.
Come on, who else but Lacoste would design France's threads?
This new Germany jersey is definitely BOSS.
A Dutch Scotch & Soda, anyone?
Sansolini's Armani-inspired Italy jersey can be worn on or off the field.
I'm not too familiar with KENZO, but this look is pretty dope.
This Massimo Dutti Spain jersey needs to be in your closet.
Move over, Nike, Polo just stole your sponsorship with the US national team.
Citations: NATIONAL KITS REIMAGINED WITH LOCAL FASHION BRANDS (Vice)