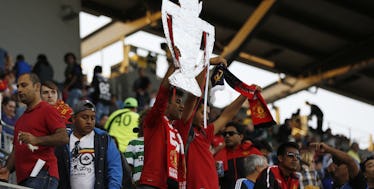 This Soccer Fan Tried To Fight An Entire Section Of Rival Team's Fans
Getty Images
Where I come from (Rhode Island), sports are practically a religion all their own.
In high school, everyone is on some sports team. At public events — any that involve alcohol! — the night usually ends with drunk dudes chanting, "Yankees suck!" I mean, it's ridiculous. And it is a passion I wholeheartedly do not understand.
That said, if you are one of the millions who live and die by all things pro sports, you'll probably get the thought process behind this dude's crazy actions.
The guy, who remains unidentified, was at a football (soccer) match on Saturday between rival teams Colchester United and Southend United.
As the groups of fans began heckling one another, the diehard Southend fan decided it would be a good idea to run onto the field and attempt to take on the entire stand of Colchester fans by himself.
Miraculously, the crazed fan managed to escape unscathed and eluded arrest until Tuesday morning, when he was cuffed by police.
The worst part? Southend United totally hates him for it. A rep for the team said,
Such people are not welcome at Roots Hall and I hope all fans will assist the club in identifying them to ensure that their actions do not go unpunished.
Oof. Tough break, dude.
Check out the video of his singlehanded assault below.
This soccer fan tried to take on hundreds of opposing fans ALL BY HIMSELF.Nicole Dabeau for @TheBuzzer. Posted by FOX Sports on Monday, February 8, 2016
Citations: atch a Soccer Hooligan Fight an Entire Section of Fans Read more: http://www.rollingstone.com/sports/videos/watch-a-soccer-hooligan-fight-an-entire-section-of-fans-20160209#ixzz3ziL5pqQl Follow us: @rollingstone on Twitter | RollingStone on Facebook (Rolling Stone)