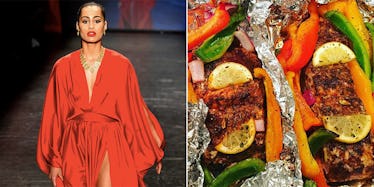 10 Healthy Meals That Actually Don't Suck, According To Skylar Diggins
I'm going to be honest. When I went to Skylar Diggins' Instagram page, I was just checking to see if she still had a boyfriend.
The snooping was done mostly for professional reasons -- I was trying to decide which female athletes would kill it as the next "Bachelorette" and, obviously, they have to be single -- but it was snooping, nonetheless.
But, like anyone who goes lurking on social media to find out if bae has a side piece, I discovered some gems I wasn't even looking for.
In order, they are:
Oh, Skylar Diggins knows how to cook.
Oh, Skylar Diggins knows how to cook healthy food.
Oh, Skylar Diggins' healthy food doesn't suck!
And you've got to understand, that's a huge thing, especially because it always seems like committing to eating healthy requires doing it for your own benefit and at your own expense at the same time.
It's like, I want to eat healthy food but I also want to enjoy life, you know? Point blank: For the most part, healthy foods suck, let's be real.
That is unless you're Skylar Diggins, the WNBA guard who clearly knows a thing or two about maintaining a great body.
Now, I might be judging a few books by their covers (the covers being Instagram photos), but from the looks of things, she's cracked the code on how to prepare, as she would say, #CleanEating without sacrificing taste.
Here are 10 of the best meals she's posted, with her instructions!
Paprika-Seasoned Salmon
Caption:
Baked in foil salmon, seasoned with paprika, cumin, pepper, garlic powder, lemon/lemon juice, oil, cilantro and baked at 375 degrees (17 min) then broiled on high for 3 min! Added bell peppers and onions halfway through. Served with brown rice.
Omelette
Caption:
Here's what #MyMorningProtein looks like: an omelet with cheese, yogurt with berries, and wholegrain toast with peanut butter! How do you get your protein to start your day right? Tips here: bit.ly/MyMorningProtein
Teriyaki Chicken
Caption:
Made teriyaki chicken pineapple bowls today for lunch! Used seasoned chicken thighs and added soy sauce, honey, and brown sugar! Scooped pineapple out for a snack, juice gave chicken a great added flavor! #foodie #tiphero #fb
Sweet Chili Shrimp
Caption:
Sweet chili shrimp, with sautéed cucumbers (garlic, onions, vegetable oil), over red and brown rice with chia and kale. Bring skillet to high heat, add oil. Add garlic and onion for a few seconds, then add veggie of choice. Add 1lb shrimp. Sauté until opaque. I added 2tbsp soy sauce, 5-7 tbsp red chili sauce, and a little sesame oil! Took about 20 min total! Rice took 90 sec in microwave.
Salad with Chicken
Caption:
Made a salad for lunch! Chicken (seasoned to taste with cumin, paprika, garlic powder, onion powder, little pepper/salt. Boiled eggs, organic grape tomatoes, avocado (lime juice and salt to taste), and brown rice! Try it with any mixed greens! So easy! Tag a friend you would try this with.
Tilapia Fish Tacos
Caption:
Made some tilapia fish tacos today! Pan seared the tilapia with some onions and tomatoes, served with corn tortillas, avocado and brown rice. Was so good! #cleaneating
Organic Potatoes
Caption:
Seasoned organic potatoes (salt, pepper, paprika, chili powder, garlic powder) with bell peppers and onions! Baked at 450 for 40 min, stirred and added butter halfway through. Love using these as breakfast potatoes, or with Steak for a big dinner!
Glazed Salmon
Caption:
Baked salmon (peppers and onions in foil) with a balsamic vinaigrette/honey glaze. Served with baked kale and halved grape tomatoes!
Seasoned Ground Chicken
Caption:
Seasoned ground chicken, mixed tomatoes, onions, and peppers....served over quinoa! (Or wraps)
Oh, and don't forget a protein shake on the side!
Caption:
Seasoned ground turkey and chicken breasts, with tomatoes, peppers, and red onions on a whole wheat wrap with a post-workout protein shake.