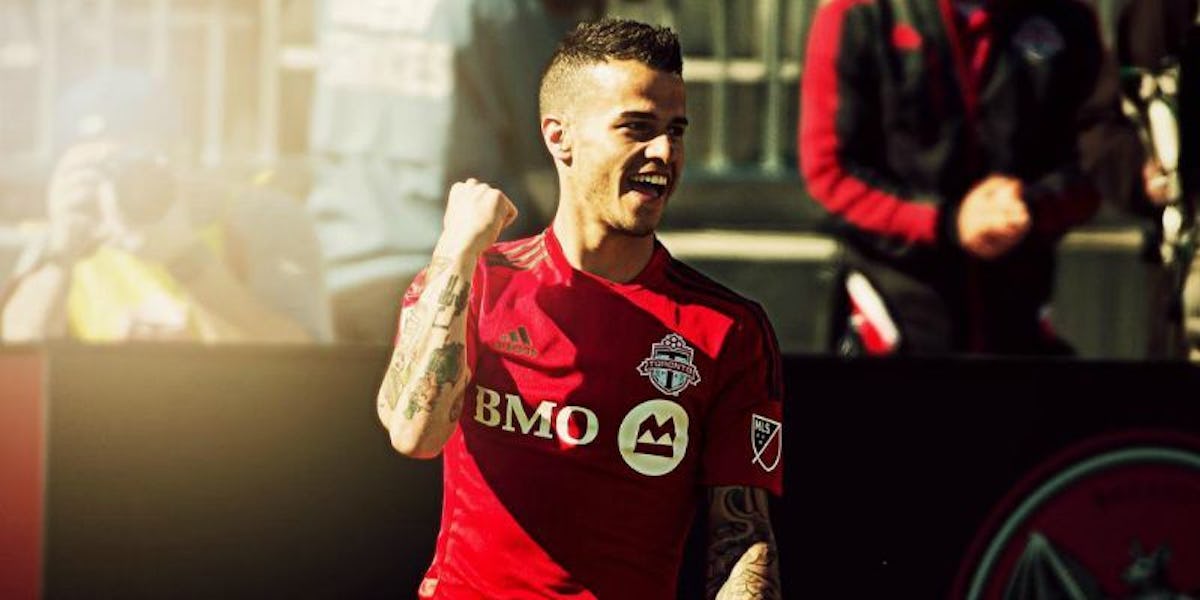 The World's Highest Paid Italian Player Is Dominating American Soccer
Twitter
In January, when Sebastian Giovinco swapped Turin for Toronto, he was labeled a flop, a sellout and a mercenary.
Toronto FC, the MLS club that made him the richest player in the league at the time, was deemed short-sighted and reckless.
Fast forward to about seven months later, and Giovinco and Toronto are having trouble hearing the doubters.
Giovinco, who turned 28 shortly after signing his contract with TFC, makes $7.1 million a year in base salary, which is the second-highest total in MLS for 2015.
Major League Soccer's highest-paid: •Kaka: $7.1M •Sebastian Giovinco: $7.1M •Michael Bradley: $6.5M •Steven Gerrard: $6.3M — SportsCenter (@SportsCenter) July 17, 2015
And Toronto FC, propelled by Giovinco's 12 goals and eight assists in 18 games, find themselves just eight points from first place in MLS' Eastern Conference, with four games in hand on leaders DC United.
The @budcanada Man Of The Match: Sebastian Giovinco #TFCLive pic.twitter.com/y7VrZnsfQc — Toronto FC (@torontofc) July 19, 2015
Upon signing his five-year deal in January, which, with bonuses, could net him close to $10 million annually, Giovinco became the highest paid Italian soccer player in the world.
And, not only is the Atomic Ant set to make more money than any other Italian player, he'll rake in more than any player in Serie A, Italy's top professional division.
So, why the hate?
Giovinco had been on the books at Juventus, one of the powerhouses of Italian football, since 2006, but he failed to become a first team regular and spent much of his career on loan at other clubs.
Sitting as Juve's fourth-choice attacking option, with the window on his prime getting smaller and smaller, Giovinco was in serious danger of failing to reach his potential.
Then, he was approached with the opportunity to quadruple his salary while playing for a rapidly developing league.
Some, like Goal.com's Carlo Garganese, weren't buying.
Shortly after the Italian forward signed with Toronto, Garaganese wrote,
On Monday, Sebastian Giovinco signed away his career. He gave up his footballing soul in return for the most lucrative contract in Major League Soccer history.
His decision to join Toronto at such a young age sends out a terrible message to all football lovers.
Now, if you want to make the case that moving to MLS hurt Giovinco's chances of continuing his career with the Italian national team, then you may have a point.
Since moving from Juve to TFC, Italian national boss Antonio Conte hasn't called up Giovinco to the squad, which creates much speculation about his Euro 2016 status.
But if you're arguing that moving to MLS robbed Giovinco of his "footballing soul" purely on the basis of player development, I have to take serious issue.
In the past five months, Sebastian Giovinco hasn't lost his soul, he's become one of the most prolific attackers in the game.
In Sebastian Giovinco we trust. #TFCLive — Toronto FC (@torontofc) July 18, 2015
The deep-lying forward has scored 12 goals and dished out eight assists in 18 matches, is a three-time MLS Player of the Week, scored Toronto FC's first ever hat trick in MLS and is one of 22 players who will be featured at the 2015 AT&T MLS All-Star Game.
#TFCLive Photo: Sebastian Giovinco is honoured before training for recording the club's first hat trick in MLS play pic.twitter.com/S8P5ZXnKaD — Toronto FC (@torontofc) July 14, 2015
This past Saturday, Giovinco showed his skill and his desire in a 2-1 win over the Philadelphia Union.
Sebastian Giovinco is on https://t.co/TECe8ACpBy — Major League Soccer (@MLS) July 19, 2015
A few weeks before that, the Atomic Ant scored a hat-trick in nine minutes and added an assist in a 4-4 draw with New York City FC.
Giovinco's hat trick #TFC #NYCFCvTFC https://t.co/sXxC8GyNky — MLS (@TheMLSshow) July 12, 2015
Sebastian Giovinco's stock is rising, and Toronto FC are firmly on course to make their first MLS playoff appearance in franchise history.
He didn't run out on Juventus and Italy or take the easy way out and stop trying; Sebastian Giovinco seized an opportunity to realize his football dream.
Kudos to him and the TFC brass.
Someone tell me where the honor is in staying with Juventus as a bit part player or going to a smaller European club and making a lot less money. I'm just not seeing it.
If Antonio Conte and the FIGC -- Italy's soccer federation -- don't see the upside in selecting Giovinco to play at Euro 2016, that's their loss.
Sebastian Giovinco is the highest paid Italian player in the world. At the moment, he's worth every penny.