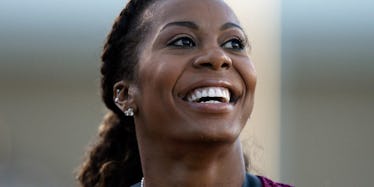 On Her Way To The Olympics, Sanya Richards-Ross Honors Black Excellence
Getty Images
Sanya Richards-Ross needs another dose.
The 30-year-old track star is well aware of the doubts surrounding her bid to defend the gold medal she won in the 400-meter race at the 2012 Olympics in London. Still, she is no less determined to earn another hit of her one addiction.
For me it's like my only drug. It's the only thing that I yearn and it's so hard to describe it because you walk into that [Olympic] Village on the first day, there's all these people with similar goals and... there's like this palpable, tangible feeling of hope and love and anticipation and peace. It's simply amazing.
History is calling Richards-Ross, direct from the site of the 2016 summer games in Rio de Janeiro.
There is only one way she can answer: with a redemptive year that would see her make it onto Team USA's roster for the Rio Olympics, particularly after failing to qualify for her signature event at the World Championships during an injury-plagued 2015.
But first, there's business to take care of.
With Black History Month having kicked off this week, Richards-Ross and her two-time Super Bowl-winning husband, former New York Giant Aaron Ross, have focused their attention on more charitable efforts.
On Friday, the Rosses will be hosting their second annual Black Excellence tribute, an event designed to showcase African-American talent in the creative arts, honor black role models and give back to local causes.
Richards-Ross's efforts, however, are unapologetically black, and her motivation for them being so is clear.
I think that during the Black Lives Matter movement, there was a lot of negative rhetoric around race and identifying as being a Black person so we wanted to do something that was very positive and that the rhetoric is simply about embodying excellence and being the best that we can be and really empowering the community, not tearing down the community or having anything negative done.
It's no surprise, then, that the beneficiaries of the first Black Excellence Tribute were families of victims of police brutality.
This year, though, proceeds will go toward the African American Youth Harvest Foundation, an organization Richards-Ross says has a "fantastic track record" for supporting educational programs for Black youth.
As for the artists on display, many of them are performers Richards-Ross and her husband enjoy themselves.
Houston's A.J. McQueen, for instance, caught the Rosses eye at a Black Lives Matter event, while they noticed Newark's Jasmine Mans after she wrote a notable poem to Kanye West.
These are artists that my husband and I really love and really enjoy listening to... and so we wanted to bring those artists in and give them a platform.
The Power Of Representation
No matter how positive her intentions are, the banner of (specifically) "Black Excellence" that Richards-Ross is choosing to showcase could easily draw skeptical looks.
Why, some might ask, is there a particular need shine a light on "black" excellence? Why not just showcase excellence from all people in all communities?
The most cynical critics might even argue that exalting the idea of black excellence is an example of one community blatantly excluding others.
On this subject, Richards-Ross's comprehensive thoughts on the power of representation are worth the slightly longer reading, even in an age where the smallest soundbites with the least context make the most noise.
Very recently I saw an image of the ballerina Misty Copeland. There was a beautiful image of her and two other black ballerinas and then about a month later there were three black girls who were on their tippy-toes and aiming to be like Misty Copeland. I thought to myself about the power of representation. Young people believe they can be something when they see it. And so, as a community we have to show black excellence. We have to show black individuals who are doing the right thing, working hard and striving for excellence and then our kids will aim to do the same. And so for me, that's why it's important. It's important because representation is important and diversity is important... I want you girls and you guys to see that and to say 'Oh, I can be that.' You know, a lot of times in the community, [the] only things that young black kids see are athletes or unfortunately drug dealers. The image of what excellence is is not always repeated in our community... That's my heart behind this whole thing.
Road to Rio
At some point, perhaps maybe the very day after her Black Excellence Tribute ends, Richards-Ross will go back to the gym.
On her mind will likely be the only possible thing that there could be: a return to the summer Olympics games.
Now, at 30, Richards-Ross says her training is all about working smarter, not harder, as she tries to battle back to the big Olympic stage, where she hopes to defend her London gold in the 400-meter and the 4x400-meter relay.
I feel really good. I feel as good as I would like to feel the first week of February. My coach is really happy with my progress, so I'm just taking it one day at a time and preparing for (Olympic) trial, which is the most important thing, in order to make the team.
She's right, too: The US Olympic team trials in track and field are the most important thing in her path at this moment.
She has been a mainstay racing the 400 on the American relay team and as an individual, but nothing is guaranteed this time around.
While her focus remains on the short term, though, she is still aware of the great prize that could be at the end of this long run.
If I stood on top of that podium in Rio again and I was able to hold the gold medal in the 400, I think it would probably be the most special because no other American woman has ever defended the title in the 400... For me, to be able to accomplish that I think would probably be the greatest accomplishment of my career.
And if Richards-Ross does accomplish that, she will have truly saved the best for last in her career, all while showcasing a little bit of her own black excellence.
For more info on the Black Excellence Tribute, follow Sanya Richards-Ross on Instagram.