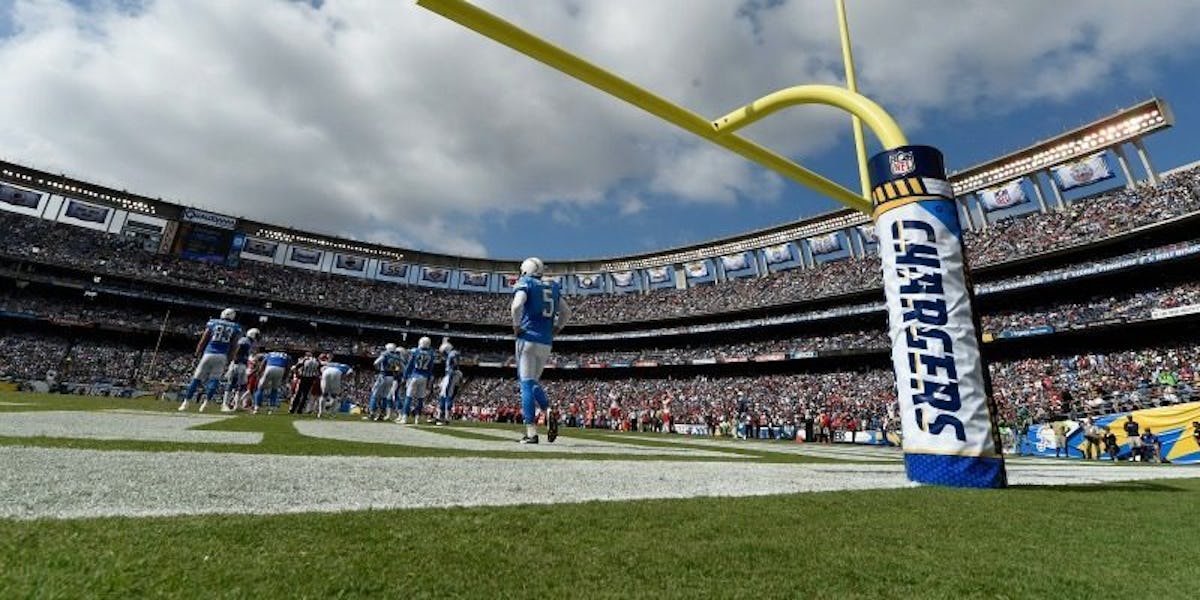 The Chargers Took 'San Diego' Off Their Social Media Logo And Fans Lost It
Getty Images
First, Los Angeles took the Rams from St. Louis, and I said nothing.
Then... OK, the NFL hasn't relocated any other teams, but based on a quick observation of the San Diego Chargers' social media accounts, it looks like the Bolts could be next to relocate.
This is what the Chargers' Snapchat logo currently looks like.
The Chargers keep taking "San Diego" off of things https://t.co/gYAz6LdZU0 pic.twitter.com/3vK8NRu6py — Bolts From The Blue (@BFTB_Chargers) January 27, 2016
But, as this Twitter user points out, the logo had the "San Diego" in it one day and, then, the "San Diego" was gone the next.
Chargers removed the "San Diego" logo from their snapchat. Los Angeles Chargers in the upcoming days??? pic.twitter.com/OEwsGtqaH2 — ⚡️Chargers Legion⚡️ (@ChargersLegion) January 27, 2016
This excuse isn't exactly going over well with San Diegans.
Chargers say social media logo alteration was for aesthetics and has nothing to do with possible move. Then just bad timing. BAD. Terrible. — Kevin Acee (@sdutKevinAcee) January 27, 2016
Some folks think people are overreacting to the logo change.
After everything the @Chargers did in Carson it is really silly to overreact to a social media logo. Come on people. #saveourbolts — David Agranoff (@DAgranoffAuthor) January 28, 2016
Are you about to disappear, San Diego Chargers?
Hey @chargers, why the ghost 4 twitter? Are you about to disappear on San Diego or you still trying to scare us with talk of moving 2 LA? — Josh Carambas (@Flip4420) January 27, 2016
Guess I'll have to wait and see if the San Diego Chargers are who they say they are.
Citations: The Chargers took 'San Diego' out of their social media logos and it's going over poorly with fans (SB Nation)