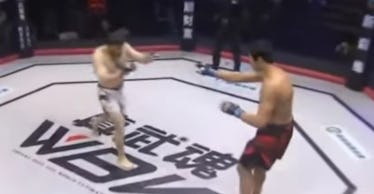 Ruthless MMA Fighter Knocks Out Opponent With Cheap Shot During Glove Touch
YouTube
Welcome to the savage and unforgiving world of MMA fighting.
Apparently, you don't have to be sportsmanly about beating the crap out of each other, because this guy just knocked out his opponent during the glove touch.
Bakhtiyar Barotov made the mistake of reaching out to touch gloves at the start of the match — customary in boxing, but not so much in MMA.
Russian fighter Ibragim Khalilov didn't even hesitate to take advantage. As Barotov stretches out his arms, Khalilov lands a powerful right jab to the side of his head.
KADOOOOSH.
It's all over in the space of three seconds.
Barotov goes crashing to the ground gives a heartbreaking look that says, "Really, brah? I trusted you."
No love lost.
The move is definitely not cool, but it worked.
The video went viral after fighter Cody Garbrandt tweeted about it and simply said,
Why I never touch gloves.
More like why I will never take part in MMA. This sport looks brutal af. And it looks like you don't even have to be fighting to get hurt.
A video emerged several weeks ago showing a ring girl as she was walloped in the grill by an angry fighter. It was totally by accident, but that doesn't make it any less gnarly.
Andrew Whitney lost it when he failed to beat Farkhad Sharipov at the Titan Fight Championship. Here he is moments before the decision was called. Note the innocent ring girl behind him.
This is the moment his heart breaks and Hulk rages deep within.
He winds up a powerful right fist and swings around to clobber the ring girl.
She sent flying back onto the floor. Surprisingly, officials said she was back up moments later and didn't suffer any hardcore injuries. Maybe she should have gone up against Farkhad Sharipov instead.
Citations: Protect yourself at all times? MMA fighter KO's opponent during glove touch at start of bout (VIDEO) (RT)