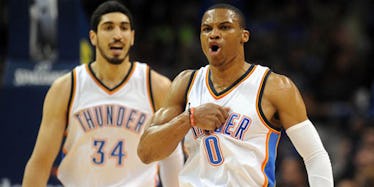 Regardless Of Stats, Russell Westbrook Should Be Playing Shooting Guard
Twitter
Russell Westbrook is an amazing basketball player.
There is no other way to describe the 26-year-old, 6'3", 200-lb guard from Long Beach, CA who plays with passion matched by few players in the NBA. He wields an arsenal of acrobatic lay-ups, ferocious dunks and pull-up jumpers from mid-range to the three-point line.
Here's why Westbrook should be playing shooting guard:
He is one of the fastest players you will ever watch.
He was one of the strongest at his size.
He jumps so high, he often hits his head on the backboard.
Just watching Russell Westbrook play is enough to convince anyone he has the kind of talent that is truly hard to come by.
Westbrook is more than just entertaining to watch. He has the stats to back up his flair with 28.1 points, 8.6 assists and 7.3 rebounds per game. He also led the league in scoring and triple-doubles this season.
Westbrook earned an All-Star game MVP, and has been a point of discussion in the regular-season MVP race. With his combination of breathtaking highlights and statistical milestones, Russell Westbrook is a once-in-a-lifetime talent.
However, there is one problem with his game, which he has yet to solve: As great as he is as a basketball player, Russell Westbrook is not a natural point guard.
Such an observation doesn't normally constitute a flaw, but it does when he is playing the position.
Much like Allen Iverson in his early days with the 76ers, Westbrook is most effective when he is shooting the ball. His recent statistical outburst started after Kevin Durant suffered a season-ending injury, thus limiting Westbrook's responsibility to share the ball.
Once he was the only player on his team who could score on his own, he did so to the tune of 54 points in a loss against the Pacers, and 34 points in the first half for a win against Minnesota that was too little too late to earn a playoff spot.
Russell Westbrook is a shoot-first player. He knows it as well as we all do, and frankly, he is not ashamed of it. But, why should he be?
His play is not to blame for the Thunder's failure to make the post-season. If it were not for Westbrook's dominating style of play, the Thunder would not have gotten so close to making the playoffs.
Westbrook stepped up and did everything he could to keep them afloat. The Thunder lost because he needed help on the offensive end, and because they were lacking on the defensive end (see their loss to the Pacers).
However, Westbrook's critics are not entirely wrong. Even when he had help before, Westbrook ignored it and chose to shoot first and ask questions later.
Some critics may interpret these acts as the symptoms of a swollen ego, and they may have a point. Westbrook does what comes naturally to him, and he is a natural scorer who produces the most when he shoots the ball.
When his team needs a basket, he takes the responsibility of providing it, even if he makes mistakes in the process.
It is likely he wants to be the reason the Thunder succeed, and that mentality has proven itself to be a double-edged sword. On one side, there's the desire to win; on the other, is the insatiable need to be the leader who makes it happen.
He had his opportunity to be that leader this season, and despite his valiant efforts, he has, perhaps, learned the hard way what every great scorer must learn: He can't do it by himself, no matter how hard he plays.
Like Allen Iverson, Westbrook is a natural scorer and volume shooter, but not a natural passer. He may be among the upper crust of NBA players, but he is not the among the best point guards.
Westbrook shot a pedestrian 42.6 percent from the field and 29.9 percent from three while averaging around 22 attempts per game. Though he was fourth in assists, he was also the league leader in turnovers at 4.4 per contest, and the league leader in field goal attempts at 1,471 for the season.
These are not the statistics of a pass-first playmaker who can score. This is the production of a shoot-first scorer who can pass, and there is a difference.
The league's best point guards have different stat lines. Chris Paul, one of the few players in the league with a competitive fire as hot as Westbrook's, averages 10.2 assists per contest and only 2.3 turnovers, proving yet again he is the elite playmaker in the NBA.
John Wall is a point guard with similar athletic ability as Westbrook, and he averages 10.1 assists and 3.9 turnovers a game. Russell Westbrook is not nearly as talented an assist man as the top point guards in the NBA.
In fact, among the top 10 point guard assist leaders, Russell Westbrook had the second lowest assist/turnover ratio behind Michael Carter-Williams.
Among the top 10 assist leaders in the league, Westbrook's assist/turnover ratio was still the third lowest behind LeBron James and James Harden, two players he eclipsed in the scoring department.
If you watch Westbrook play, it becomes obvious why his assist/turnover ratio was only 1.96 this season. With all of his talent, with all of his explosiveness and scoring touch, he is not the best decision-maker.
Though he has certainly improved, he tends to attack without waiting for a higher percentage shot. As a result, he keeps the defense on its heels, but he turns the ball over at a high rate. For a point guard, his turnover average is simply unacceptable with few exceptions.
Magic Johnson once averaged slightly more turnovers than Westbrook, but he also averaged over 13 assists that season.
Isiah Thomas averaged at least four turnovers for four of his 12 seasons in the NBA, but two of those seasons were his first two years in the league; he averaged 10 assists in another and 9.4 for the next.
These Hall-of-Famers turned the ball over quite a bit, but they were better assist men than Westbrook and most point guards in NBA history. Russell Westbrook isn't even the best passer or decision-maker among his peers.
This season, Russell Westbrook's closest statistical comparison in NBA history was Allen Iverson, who used high-volume shooting to score and turned the ball over at a high rate during his career. But, there are some differences.
Allen Iverson scored more and turned it over less, but he never amassed as many triple-doubles in a season as Westbrook.
These two players were also coached differently. Iverson's relentless-scoring style of play inspired a switch to the shooting guard position where he was free to look for his own shot and not the rest of the team's offense.
As opposed to always having the ball in his hands in order to set up the offense or set up his teammates, he had the freedom to move to spots on the floor where he was best able to finish plays. He could catch and shoot after running through screens.
He could isolate his defender and use his unstoppable dribble drive. He could cut to the hoop for easy lay-ups. When he was no longer responsible for running the offense, Iverson was free to expand as a scorer, and as a result, he became a more dangerous weapon against opposing teams.
With the exception of Michael Jordan (not committing basketball blasphemy just yet), Westbrook has enough talent to rival any shooting guard in NBA history, just like Allen Iverson did (because he can do everything Allen Iverson could do).
He has the speed and stamina to run around screens and cut to the hoop. He can make the mid-range jump shot, and he finishes best at the rim by making 58 percent of his shots 0-3 feet from the hoop. He can get fouled, shoot 9.8 free throws a game, and make 83.5 percent of them.
On top of all that, Westbrook has the strength and post-up game Allen Iverson lacked, allowing him to capitalize on smaller guards if and when he cannot outrun them.
Combine this scoring repertoire with his shocking athleticism, and Russell Westbrook could surpass James Harden as the best shooting guard in the league -- especially when he has already beaten him for the scoring title.
However, as a point guard, Westbrook frequently turns the ball over, and he shoots more field goals than anyone else in the league just like Allen Iverson did four times during his career.
Just like Iverson, Russell Westbrook needs to play shooting guard to reach his full potential.
It's puzzling Scott Brooks has not switched Westbrook to a position that suits him, but it was at least understandable at the end of this season.
With Reggie Jackson dealt away, and Kevin Durant and Serge Ibaka injured, Russell Westbrook had to play whichever position was necessary to help the Thunder stay afloat.
With no help to ease the load, we watched Westbrook do what he does best to help his team by shooting enough for two players. All of the criticism against him for doing so is unwarranted.
The Thunder depended on Westbrook to dominate the ball as their best player, and he did it for his team's benefit.
This season, more than ever, Oklahoma City needed Westbrook to put the ball in the hoop, and he responded by leading the league in scoring, not assists or assists per turnover ratio.
Despite what the critics say, Russell Westbrook may need to improve as a decision-maker, but he does not need to change his game. He does not need to change the fact that he shoots first and passes second, and he knows it.
He needs to change his position, and the Oklahoma City Thunder needs to acquire a point guard to take the responsibility of running the offense off of his shoulders. They must stop expecting him to man the point and start expecting him to score.
If they can get along, Rajon Rondo would be an excellent addition to a team that needs a pass-first point guard who averaged 7.9 assists and 3.1 turnovers per game this season and 8.3 assists for his career.
Perhaps, if the Thunder sign Rondo, we'll get to see Russell Westbrook at his best. Perhaps, with a pass-first point guard like Rondo playing for the Thunder, we will get to see Russell Westbrook shooting the ball unfettered without disrupting the offense.
With a healthy Kevin Durant shooting alongside him, and Rajon Rondo getting him the ball where he is most effective, opposing teams would never be able to double-team him without placing themselves at a disadvantage. Their fast-break play would be legendary.
The Thunder would be even more dangerous with a natural playmaker distributing to two of the NBA's best scorers. Just imagine a team with two scoring-title winners finally free to do what they do best: score points.
Will they have to share touches? Absolutely. Will Russell Westbrook become a selfish egomaniac who must score all of the baskets? Absolutely not. Westbrook cares about winning, and scoring is only a means to that end.
Westbrook has already expressed how he feels about winning the scoring title. With Rajon Rondo, the Thunder can win again, and it is likely Westbrook has matured enough to make whatever adjustments are necessary to bring a title to Oklahoma City.
If that means moving without the ball, posting up, finishing plays and, perhaps, shooting less but higher percentage shots, so be it.
If that means realizing he cannot do it on his own, fine. Show Westbrook the wins, and he will follow suit. He is too much of a competitor to walk away from a winning strategy. He will give it his all if that is what it takes to win a championship.
In a previous article, I asked if we would ever find an heir apparent to Allen Iverson.
It looks like Russell Westbrook could be that guy on the court, but he needs to play a position where he can truly showcase his greatness. Russell Westbrook is not a great point guard, but he is an elite, MVP caliber basketball player.
Let him play shooting guard, and he will wreak even more havoc on the NBA than he already has. What we saw this season has only scratched the surface.