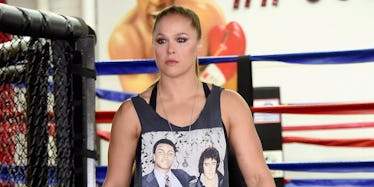 Ronda Rousey Finally Shows The World Her Face After Knockout Fight
Getty Images
Two weeks ago, the sports world was shocked to see Ronda Rousey's huge fall from grace with a knockout kick from Holly Holm at UFC 193.
Since the fight, Rousey has been lying low.
When she returned to the United States, she even hid her face from the paparazzi as she made her way out of LAX.
According to UFC president Dana White, Rousey had to have plastic surgery following the fight to repair a split lip. She is also on a mandatory six-month medical suspension.
It's cool girl, you live in LA. Everyone gets a little nip and tuck here and there. At least you have a bad ass reason for it.
However, it looks like Rousey not only has a fighting spirit, but also a killer ability to bounce back.
On Friday, Rousey's mother, AnnMaria DeMars, posted an Instagram photo featuring the entire family, including Rousey and her new face.
TMZ has more photos of the fighting champ looking no worse for the wear. Here's hoping she has a fast recovery both inside and out.
Citations: RONDA ROUSEY OUT OF HIDING ... With a Fresh Face (TMZ)