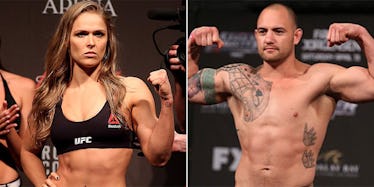 Ronda Rousey's New Boyfriend Was Accused Of Domestic Abuse By Ex Wife
Getty Images/Facebook
While many were solely looking for an answer to whether or not Ronda Rousey was dating, her confirmation of a relationship with a fellow MMA fighter meant something else, too: She is dating an accused domestic abuser.
Rousey told ESPN she is in a relationship with heavyweight competitor Travis Browne, who was accused of physically abusing his estranged wife Jenna Renee Webb after she posted pictures of bruises on Instagram in July that she hinted were Browne's doing.
The UFC promptly suspended Browne and began conducting an independent investigation into the matter between the fighter and his wife, who never pressed charges.
That investigation led to Browne's reinstatement and exoneration (particularly in the Octagon) on August 29, as there was found to be "inconclusive evidence" to confirm Webb's accusations.
Afterward, however, Webb said she and her family were shocked by the result of the UFC's investigation and would press charges in California.
Webb told WomensMMA.com,
I told them the truth, I gave them photos, I gave them a dated and detailed journal, and how they came up with those results is beyond belief. The investigator got this info and helped the UFC come to this conclusion. My family and I are totally baffled. It just shows what an abused person from a close family in Florida faces when they go up against an ex-FBI investigator, Campbell & Williams, and the UFC. They have more money than we do. They appear to be the winners. We believe that in the end truth prevails. At the present time, I feel that the truth hasn't come out and I have no other option than to press charges with the same evidence that was provided, and we'll let the state of California decide whether I suffered from domestic violence.
Despite Webb's statement in late August, she has yet to press charges, perhaps reverting to her previous stance on the option of taking her accusations to the law.
She wrote in an Instagram post in July,
He abused me mentally and emotionally. However, I find it unbelievable that you would be suggesting that I should have considered going to the authorities instead of social media. Going to the authorities means having Travis arrested, going to jail, charged with a felony, losing his career and possibly losing his kids. I chose not to do this, and continue not to do this because I have addressed my message to domestic victims everywhere.
Browne, for his part, has vehemently denied the accusations.
In an interview with "The MMA Hour" Browne said,
I'm a lot of things. I can be an assh*le. I can be mean. But putting my hands on a woman is absolutely not in me. That goes against everything in my DNA as a human being. The general public may not have an understanding about me and what I do, how I feel about my children, how I feel about my family, how protective I am over my family and children. They just see a big guy in a cage that fights, that knocks people out or this and that.
What Browne and Webb's situation presently amounts to is essentially a he-said-she-said matter with the most important fact, to be fair, being that Browne has not been found guilty of anything.
The obvious reason it's worth noting is in relation to both Ronda Rousey's image and comments she's made in the past on domestic violence.
Rousey's rise as an icon of strong womanhood has been made more poignant by the time frame in which she has risen in fame.
Her role of dominance stood in contrast to the way some of sports' biggest stories -- from Ray Rice to Greg Hardy to the topic of Floyd Mayweather's relationship history -- featured women in a demeaning place, the receiving end of domestic abuse.
It's an ironic, if coincidental, situation that could very understandably be perceived as something at odds with what she stands for in her fans' eyes, particularly when it comes to her female admirers.
Besides that, though, there are the past instances in which she's weighed in on domestic violence, the most popular being when she threw jabs at Floyd Mayweather while his history with domestic violence accusations was under the spotlight.
She also told Access Hollywood in May,
I would never say that I can't beat anyone. I don't think me and him would ever fight unless we ended up dating.
Rousey was generally lauded for these statements, with her being praised as somewhat of a protagonist against the villain-like Mayweather. That fact, with the added context of her now confirmed relationship, now makes her hugely vulnerable to accusations of hypocrisy, a point that was comprehensively made by Black Sports Online's Robert Littal in a column this morning.
It's interesting, too, how the spotlight on domestic abuse in sports has introduced many to the idea of victims not reporting abuse to the law, for reasons like those alluded to by Webb. That awareness could easily make someone hesitant to conclude that the lack of legal action in Browne's situation is a sign nothing wrong happened between him and his wife.
Judging from Rousey's statement to ESPN this week, though, it's unlikely we'll hear much from her on the subject.
I don't talk about my personal life much. That's why it's called 'personal life. It's true that Travis and I are in a relationship. I've really enjoyed the time we have spent together and getting to know one another. And that's all I'm going to say about it.
But while Rousey might not talk about her relationship because of accusations of domestic abuse against him, it is legitimately worth talking about.
Citations: Why Rousey is a Hypocrite For Silence on Dating Married Accused Abuser (Black Sports Online)