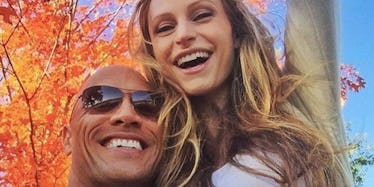 The Rock Just Announced His Girlfriend Is Pregnant With Their First Child (Photo)
It's official: Everyone's favorite entertainer extraordinaire, The Rock, is having a baby girl.
The Rock took to Instagram a little while ago to announce the joyous news, and it appears he couldn't be happier to welcome this new addition into his life.
The caption reads,
I was raised by and live with amazing and strong women, so the universe felt we needed one more... IT'S A BABY GIRL!! THANK YOU guys so much for the awesome support and love you've sent @laurenhashianofficial and myself from around the world. We're so grateful for this blessing and thrilled to share the news with y'all. #BringOnMoreEstrogenInOurHome #MeAndPuppyHobbsAreTheOnlyDudes #Proud2xPapaBear #JustOverHereMakingBabiesAndStuff
He's having the child with his girlfriend, Lauren Hashian, and we couldn't be happier for them.