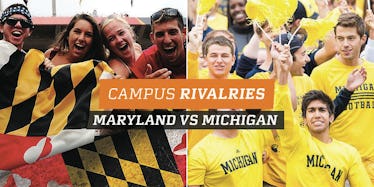 Football Campus Rivalries: How The Michigan And Maryland Experiences Compare
This week's campus rivalry shines the light on two schools worthy of note for being both different and similar.
On the field, Michigan has a vastly superior history and is a mainstay among the top 25 teams in college football, while Maryland is the newcomer to the Big Ten Conference looking to improve.
The contrast there is clear. But the schools share a commonality in that they are two of the nation's biggest public institution with a very proud alumni base who will never let you forget where they graduated from.
Ask a Wolverine or a Terp what the best place on earth is and they'll probably respond by citing their own campus. So which school, exactly, has the better campus experience?
Another edition of Football Campus Rivalries looks for the answer:
Maryland
College Park is a cross between a university town and an urban area which I love. DC is not too far and College Park feels like such an open area for college students to really live like adults. - Courtney Humphrey
Michigan
There are few college campuses that are really dedicated to the college. Ann Arbor is the quintessential college town; there's amazing food, great bars and a perfect Diag to spend your breaks between class. Did I mention that it perfectly lines up with the best coach in town? Ann HARBAUGH! - Tracey Zane
Maryland
The best part about attending UMD is the school spirit which incorporates tailgates and an awesome culture. Everyone goes to house parties or parking lot tailgates dressed in their Terp gear. The outfits that people wear are ridiculous from red suspenders to full out turtle costumes. Although our football team has had its ups and downs over the years, no one has ever given up on their tailgates. Oh and Byrd Stadium is now serving alcohol which is always a huge plus. - Jenna S.
Michigan
Anyone who has attended Michigan during Football weekends knows that the town is decked out in Maize and Blue (and now Khaki) on Saturdays. I think the coolest part (aside from the awesome pregames), is the school spirit thats infectious on campus. - Tracey Zane
Maryland
The best event of the year is Art Attack! During my years at UMD we had Big Sean, Jessie J, Logic, Wale and B.o.B. Basically SEE (Student Entertainment Events) selects a few artists every spring semester to put on a concert for us for really cheap ticket prices ($15-20, maybe less). They also brought Kevin Hart to us for a comedy show last year. They're literally always surprising us. - Kristina M.
Michigan
Not to date myself, but the best event while I was at Michigan no longer exists: The Naked Mile. Last day of classes, thousands (mostly seniors) ran on a pre-determined route through campus, while all the rest of the students looked on an partied. It was always a fun night. But those were the days before everything you did ended up online, so I'm guessing that lead to its downfall. A close second would be anytime Ohio State came to town and played Michigan in football. - Aaron W.
Maryland
Sergey Brin: Google cofounder
Kevin Plank: Under Armour founder
Larry David: "Seinfeld" co-creator
Michigan
Larry Page: Google cofounder
Tom Brady: four-time Super Bowl Champion
Madonna: singer
Maryland
LOL. That would have to be Blaze Pizza and 7-11. Yes, 7-11. There are at least five of them surrounding the University of Maryland campus. And Slurpees are literally heaven, sober or not. - Courtney Humphrey
Michigan
NYPD: The pizza there is crack. And I'm not sure if it's because your drunk at 2 am, but I swear their cheese-to-sauce ratio is ON POINT. - Tracey Zane
Maryland
The opportunities. University of Maryland is full of them. You just have to be the type of person who follows up and is serious about them because once UMD gives you an opportunity, there are thousands of students vying for the same thing. UMD teaches you about competition, lets you know how hard life is and prepares you for all of it. - Courtney Humphrey
Michigan
To me, Michigan is the perfect combination of academics, sports, social life, Greek life, school spirit and a great campus. It's the prototypical American college experience. - Aaron W.
Maryland
The one and only RJ Bentley's! - Jenna Shulman
Michigan
SKEEPS! Best "sports" bar in town, and a great place for a cheap pitcher. - Tracey Zane
Maryland
The McKeldin Mall (no, not a shopping mall but a huge area of grass surrounded by buildings). It's the largest academic mall in the USA, which is surrounded by academic buildings and the library. In the center, there is a large fountain that drunk fraternity boys love swimming in! - Jenna Shulman
Michigan
The Arb in the fall. - Skyler Fulton
Maryland
The Clarice Smith Performing Arts Center. Monthly there are shows, concerts, plays, recitals and other events that the campus does not take advantage of.  - Courtney Humphrey
Michigan
The new film/TV studios in NorthQuad. They were just redone and are top of the line. - Tracey Zane
Maryland
It was really, really fun because of the "real" people that went there. It was a great mix of party and school. At Maryland, we're smarter than your average Hoosier or Buckeye, but no one here has a stick up their ass about not getting into Penn or Northwestern. - Jason S.
Michigan
Michigan is the best school that produces well-rounded individuals. It has the largest-living alumni base out of any other university in the world. Anywhere you go, if you're wearing something with Michigan logo on it, another person will yell, "Go Blue!" Just recently, we were in Kyoto, Japan and someone yelled it to me. I wouldn't trade my college experience for anything. Plus, we're definitely beating Maryland on Saturday. - Micah K.