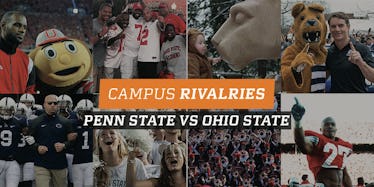 Football Campus Rivalries: How The Ohio State And Penn State Experiences Compare
Ohio State vs. Penn State is a game that rarely disappoints, and this week when the two schools face off in primetime on Saturday night, it should be no different.
This battle will be a rematch of last year's thriller, when the Buckeyes escaped Happy Valley with an overtime win after the Nittany Lions came back from a 17-point deficit.
This week, The Ohio State University welcomes Penn State to Columbus, where 100,000 plus fans will pack into Ohio Stadium to watch this class Big Ten matchup.
No one knows for certain what will happen on Saturday night, but if there's something that can be said about both schools, it's that their fan bases are two of the biggest and baddest in the country.
Simply put, OSU and PSU students and grads roll deep, and they love their campuses -- which means there's more than plenty to talk about in this latest edition of campus rivalries.
Ohio State
The nightlife. Anyone can go to a bar. Since I left school, campus has opened all these crazy-ass nightclubs that you only have to be 18 to get in to. Greek life is not as big because all 60,000 strong are ragging at one of the 100 different options of bars that you can go to throughout Columbus.
Whether you want bottle service or dollar bombs, CBUS tailgates and game days have it all. We ball.... HARD and it's not just a frat thing, it's the whole damn city reppin' the Buckeyes. - Brett Newman
Penn State
Well, first of all, OSU should NOT have won last year. Ok, I'm calm now. State College is possibly the best part of Penn State! Everybody is so kind and bleeds blue and white.
There's always some place to get food or drinks and everything one needs is conveniently laid out along two parallel roads. Also, the cops are pretty cool as long as one isn't making an ass of oneself. - Stephen Armstrong
Ohio State
The coolest part about the football games is the band. The band has a tradition where they form a script Ohio on the field. It is amazing. - Brittany
Penn State
HAVE YOU F*CKIN SEEN THE STADIUM WHITE OUT? Like I would be afraid for my life if I was any football player and ran through that tunnel and knew NONE of those people were there for me.
Being a part of the student section every week can seem monotonous to an outsider, but every Saturday is a little different; the process of getting to the game and timing it just right to get to the seats you want makes it an individual experience each week. - Megan Henderson
Ohio State
The Mirror Lake Jump is a sight to behold. If you aren't partaking, bring a coat because it never fails to fall on a frigid date. - Ryan Everett
Penn State
Penn State THON is the largest student-run philanthropy in the world. PSU students spend all year raising money for pediatric cancer for the Four Diamonds Fund. Culminating their efforts in February, the entire Penn State campus joins together in the Bryce Jordan Center for a 46 hour non-stop, no-sitting dance marathon.
Last year, Penn State students raised $13,026,653.23 for pediatric cancer. THON is by far the most unbelievable thing Penn State has to offer, it is indescribable. It's a selfless, emotional and incredibly rewarding experience that proves Penn State has it all. - Steph Ironson
Ohio State
Jesse Owens - 1936 Olympic Gold Medalist
Eddie George - 1995 Heisman Trophy Award Winner
Archie Griffin - 1974 and 1975 Heisman Trophy Award Winner
Penn State
Keegan-Michael Key - Comedia, Key and Peele
Ty Burrell - Actor, Modern Family
Mark Parker - CEO, Nike
Ohio State
Best drunk food is either Canes or Buckeye pizza. Best sober food is Piada. - Brittany*
Penn State
Canyon Pizza is the best drunk spot on campus hands down. Sober? Jimmy Johns all day, every day. - Ashley Fern
Ohio State
We have the largest alumni class in the world. Anywhere you go if you yell "OH" someone will respond with an "-IO." - Brett Newman
Penn State
The mentality of "work hard, play hard," is very evident. Penn Staters know that grades are important, but we get frickin' lit on the weekends. - Stephen Armstrong
Ohio State
On game day, the bars are the way to go if you're not tailgating. The Little Bar, Big Bar and Eddie George's are great places to watch the game and drink some beers. - Lacey Myers
Penn State
If you were just two minutes late to get on line and buy season tickets before they sold out, the best place to watch a game is definitely Primanti Brothers. A new addition to the Penn State town, this restaurant and bar is the place to be on game day. - Carly Krauser
Ohio State
The most beautiful place on campus is the oval during the fall. - Brittany*
Penn State
A close call between Old Main and the Arboretum. Old Main gives that sense of campus and history college students love. Where the Arboretum has the calm, nature atmosphere, especially when sitting next to the large water fountain in the center. - Carly Krauser
Ohio State
The College of Biological Sciences has a pretty impressive Greenhouse atop a parking garage on campus. I'm pretty sure the vast majority of the campus is unaware of its existence. - Ryan Everett
Penn State
The Penn State Arboretum is the most underrated spot on campus. I spent a lot of time going on walks, exploring the trippy new playgrounds and doing work by the fountain and in the gardens. It's a huge, stunning, open area that's perfect during the warmer months on campus. - Steph Ironson
Ohio State
We are the biggest. We are the best. Best facilities in the country, insane workout facilities and gyms, the largest rec center in the country. Everything is new.
Constantly have new buildings going up and new technology for the students to use. Everything is state of the art. - Brett Newman
Penn State
Because no matter how many years have passed since you've graduated, you go back and feel like you've never left. - Ashley Fern
*These respondents preferred not to disclose their last names.