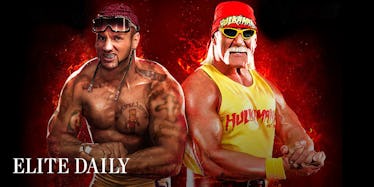 21 Reasons Why RiFF RAFF Will Become The Ultimate WWE Superstar
RiFF RAFF, aka Jody Highroller, aka the rap game James Franco, is embarking on an incredible mission to become a WWE superstar.
Wrestling icon Hulk Hogan made the epic announcement before the end of 2014 and yes, it's real, and he's even going to help!
Can't wait to start training with my new partner @JODYHiGHROLLER !!! Hulkamania is going NEON brother! HH — Hulk Hogan (@HulkHogan) December 28, 2014
There's no question RiFF already has the image, the ego and balls to last in the ring with some of today's superstars, but when you really think about it, this may actually be the gig he was born to do.
Rap could be the segue to what is a long and illustrious career in the WWE, and hell, if Daniel Bryan can be crowned champion, so can he!
RiFF is one of the most versatile human beings on the planet and with support from his fans, and some training with the Hulk, #NEONMANiA could take over the world of wrestling.
Since his big announcement, RiFF RAFF has put on more than 50 pounds of straight muscle.
BEFORE 170 POUNDS AFTER 223 POUNDS GAiNED 53 POUNDS pic.twitter.com/AeVBas56uW — JODY HiGHROLLER (@JODYHiGHROLLER) January 13, 2015
He already has his hairstyle and entrance song selected.
Hulk Hogan and Jimmy Hart can barely wait to train with him!
Together, they will create a #NEONMANiA movement fans won't be able to get enough of.
Of course, some of the best wrestlers, like Randy Savage and Ultimate Warrior, have made neon their trademarks.
Plus, RiFF already has an entire line of neon merchandise to buy at JodyHighRoller.com
His current regimen of fitness is simple...
WEED TAN GYM REPEAT — JODY HiGHROLLER (@JODYHiGHROLLER) January 12, 2015
WEED.
TAN.
GYM.
REPEAT.
It's just the diet that's truly lacking.
At least he's extremely ambitious!
i COULD NEVER BE A STAND UPS COMEDiANS BUT i WiLL HOST SATURDAY NiGHT LiVE AND BE iN A MOViE WiTH WiLL FERRELL & KENNY POWERS THO — JODY HiGHROLLER (@JODYHiGHROLLER) January 13, 2015
It's not even a question if he'd cut some of the greatest promos!
His higher level of thinking is exactly what the WWE is missing.
8 DOLLARS FOR THE WiFi i FLEW LATE NiGHT TO TAiWAN 40K FOR THE FRiED RiCE — JODY HiGHROLLER (@JODYHiGHROLLER) January 13, 2015
RiFF RAFF is the perfect superstar to pair with a diva.
But, make no mistake about it, he's "kinda dating" Katy Perry.
If you think he's too ratchet for the PG era, don't forget, RiFF RAFF is about the children.
And he's athletic enough to survive in the ring.
Either way, you're looking at a future wrestling icon in the making!
And soon, this will be available for purchase.