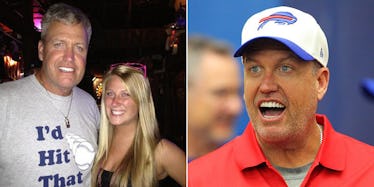 6 Reasons Rex Ryan Is The NFL Head Coach Everyone Hates To Love
Twitter/Facebook
Buffalo Bills head coach, Rex Ryan, may have changed his racy New York Jets tattoo, but that hasn't stopped his shameless, attention-seeking tactics.
Whether it's running with the bulls in Spain, fronting as a reporter to make a point or setting up private meetings with players being questioned for murder, one thing is for certain: As long as Rex Ryan is holding a clipboard, football fans are sure to be entertained both on and off the field.
So, here are a few reasons why we hate to love the coach who soaks up more spotlight than Clay Matthews' hair:
Lighten up, bro.
Has it already been almost five years since Ryan stood in front of a room of reporters donning a blond wig and a 5XL Cleveland Browns' T-shirt?
In a November 2010 press conference, the then New York Jets head coach decided to poke fun of his wombmate by dressing up as his twin brother, Rob Ryan.
At the time, Rob was serving as the Browns' defensive coordinator and was due to play the Jets that week. But make no mistake, there's no family rivalry here.
Ryan's digs were all in good fun, and they certainly gave us a few laughs and a lesson in lighthearted family matters.
Oh, burn.
No one ever accused Ryan of being subtle. Following a first-half beatdown by the New England Patriots in a 2011 regular season game, Ryan was a little, well, heated.
During halftime, a Patriots fan yelled down from the stands, "Hey, Rex! Belichick is better than you!"
Coach Ryan responded the way any rational human being would, saying, "Shut the f*ck up."
Unfortunately for Ryan, NFL head coaches are held to a higher standard than the average muggle.
His little outburst cost him over $5,700 a letter, and it reminded football fans everywhere not to mess with T-Rex.
Get on my level.
If you thought Manny Pacquiao was a badass, let's not forget about the time Rex Ryan tromped through Pamplona, Spain with a 1,000-pound beast on his tail.
In late June 2013, Ryan participated in the time-honored Spanish tradition of running of the bulls.
Leave it to Ryan to keep us on our toes. You never know just when or where he'll show up.
Murder, shmurder.
La'el Collins may have been questioned for the murder of his ex-girlfriend and her unborn child, but that didn't stop Ryan from scheduling an impromptu meeting with then undrafted Louisiana State OT earlier this month.
Shortly after the draft came to a close, Ryan made arrangements to meet Collins for a light dinner to discuss what one can only assume would be his future in Buffalo.
Collins was projected to be a first-round draft pick, but he was passed up for obvious reasons.
Following last year's Ray Rice scandal and the recent conviction of Aaron Hernandez, most teams are taking extra precaution to avoid the legal system.
Not Mr. Ryan, though. A man's got to do what a man's got to do to get ahead in this game, and if that means sacrificing integrity for the chance at a few extra wins, consider Ryan as serious as Tim Tebow's love for all things holy.
Ryan refused to comment on his meeting with Collins. Too bad for Buffalo, the Dallas Cowboys were able to make a deal with Collins quickly thereafter.
Cry me a river.
In his six years with the New York Jets, some would say Ryan always had a bounty out for fellow head coach, Bill Belichick, and the rest of his AFC East counterparts, the New England Patriots.
When the news broke that Tom Brady would be suspended for the first four games of the 2015 season, Ryan was quick to comment, saying, "I'm not feeling sorry for anyone."
Ease up, Ryan. The Bills and Patriots will be meeting in week two, so (barring any changes in the suspension) Ryan and company can expect an easier matchup this year.
If Patriot fans are looking for a shoulder to cry on, they won't find it in Buffalo.
Ryan may love to crack a few jokes, but his love for the game is no laughing matter. Brady's suspension is all good news for Ryan and the Buffalo Bills.
For the love of the game.
It takes a special breed of human to coach in the NFL. Aside from an unparalleled level of dedication and love for football, thick skin and the ability to brush off the constant media scrutiny are essential.
There's no denying Ryan leans slightly to the left when it comes to publicity antics, but that's all the more reason to appreciate him.
One thing is for sure: We'll never have to worry about having a shortage of Rex Ryan memes or GIFs.