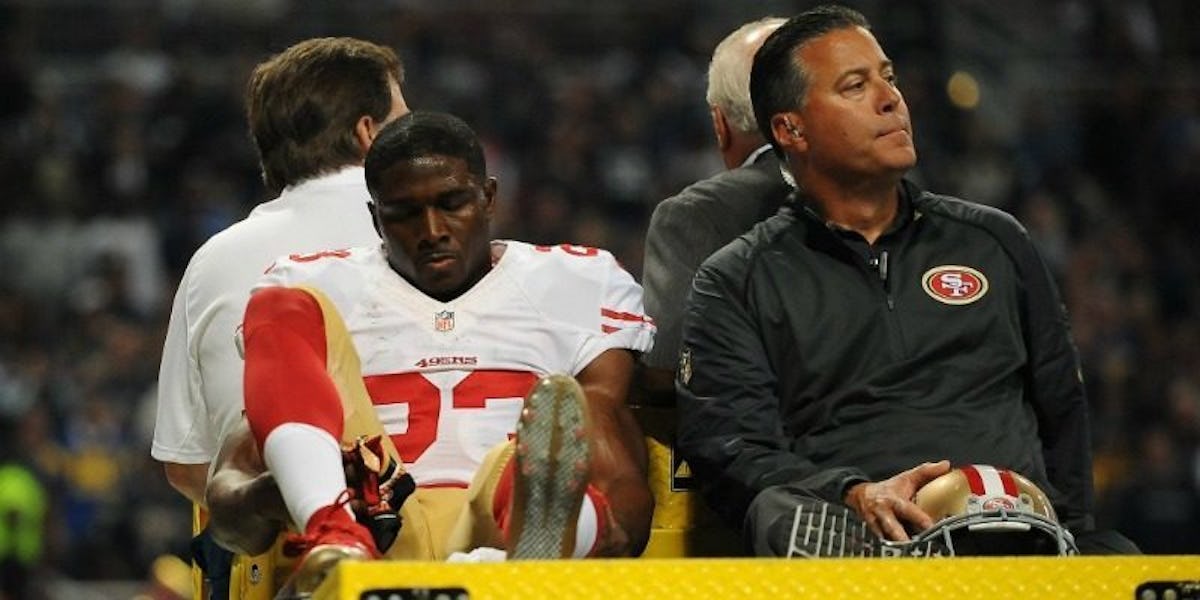 Reggie Bush Reportedly Plans To Sue St. Louis For Season-Ending Injury
During the San Francisco 49ers' Week 8 game against the St. Louis Rams, Niners running back Reggie Bush slipped on the concrete sideline of St. Louis' Edward Jones Dome and suffered a season-ending MCL tear.
Now, the 30-year-old appears ready to take the city of St. Louis -- which owns the Rams' stadium -- to court over the matter.
Bush is reportedly suing for gross negligence after he slipped on an area of concrete separating the stands and the field.
Inside the Edward Jones Dome, this area of exposed concrete comes up very quickly once a player runs out of bounds, thus posing a potential risk for injury.
Here's the play that sidelined Bush for the remainder of the 2015 season.
Reggie Bush injured after slipping and falling in St. Louis: pic.twitter.com/8yfBLROXB1 — Deadspin (@Deadspin) November 1, 2015
It doesn't look all that different from what happened to Josh McCown earlier this season.
The Rams reportedly expressed a desire to cover up the concrete, because, you know, this shouldn't keep happening, but have yet to actually do anything.
They may be forced into action now, though.
Citations: Reggie Bush is reportedly planning to sue the city of St. Louis for slippery surface that ended his season (Business Insider)