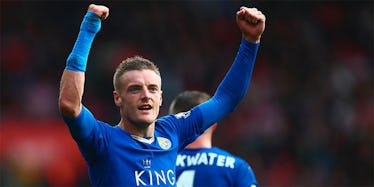 5 Things For Week 10 Of The English Premier League
Facebook/UEFA Champions League
No one could have guessed the season would unfold like this.
Chelsea, the defending champions of the Premier League, continue to lose games. West Ham United continue to take down the league's biggest teams.
Wayne Rooney continues to struggle and, somehow, Jamie Vardy can't stop scoring. It's all insane and it's all beautiful to watch.
This week, though, there are a few storylines in particular to keep an eye on.
Here are five things to watch for week 10 of the Premier League:
1. The last straw?
It may still be early days at Anfield under new manager Jürgen Klopp, but Saturday's Premier League tie against Chelsea at Stamford Bridge offers Liverpool fans a tantalizing prospect.
Beating Chelsea on Saturday would give Liverpool their first league win of the Klopp era, but it might also be the final nail in the coffin for José Mourinho's second term at the reigning champions.
The thought has Liverpool fans buzzing about this weekend's game. Liverpool fans despise Chelsea, and will have zero sympathy for the club's disastrous defense of their title.
While the noises out of Stamford Bridge suggest owner Roman Abramovich isn't quite ready to sack the 'Special One' for a second time, can Mourinho really survive a sixth league defeat?
Schadenfreude is a German word for taking joy in the pain of others. After the glee with which Chelsea fans enjoyed Steven Gerrard's fatal slip in 2014, the Liverpool faithful are hoping their German manager can stick the knife in Chelsea on Saturday.
Could watch this all day haha pic.twitter.com/5p59vYgIjb — LFCMostar (@LFCMostar) October 28, 2015
2. A toast, to Vardy
It's all champagne, roses and pizza at Leicester City these days.
After securing a clean sheet and three points last weekend, manager Claudio Ranieri made good on his promise of a few weeks ago and bought pizza and champagne for the entire squad after the Foxes earned their first shutout win.
One man who deserves extra pepperoni on the pie is striker Jamie Vardy.
His league leading 10 goals have fired the Foxes to 5th in the table, just one point behind Manchester United. Not only that, Vardy has scored in seven consecutive games.
If Vardy manages to score against West Brom on Saturday, he will equal the EPL memorable scoring runs of Daniel Sturridge in 2014, and Ruud van Nistelrooy in 2002.
Vardy's rise to the top from the lower leagues is a rare one in the modern era.
From small-time Fleetwood Town to top of the Premier League scoring charts, it will be worth watching to see if Vardy continues his amazing run this weekend.
3. Restless Rooney
I don't give any answer any more about Wayne Rooney, because I am sick of it.
Louis Van Gaal can berate the media all he wants for their questions, but Wayne Rooney's terrible form continued last weekend against Manchester City.
What does Rooney have to do before LVG will drop him?
Rooney's missed penalty in United's League Cup shootout defeat against Middleborough won't have done much to help regain his mojo.
The spotlight is firmly on Rooney as United travel to Selhurst Park on Saturday for a tricky tie against Crystal Palace.
A factor people tend to forget is that Rooney has been playing top flight football for 14 years now.
Still only 30, he was just 16 when he scored that screamer against Arsenal in October 2002, to announce his name to the football world.
That's a long time at the top.
If the manager wants the media to give Rooney a break, he should start by giving his captain a break against Palace.
4. Can Giroud continue to show his best?
For a while, it looked like Theo Walcott had taken Olivier Giroud's place as Arsenal's starting center forward.
But in a most Arsenal way, an injury to Walcott has put Giroud back in the striker driving seat for the Gunners.
Last season, Arsenal legend Thierry Henry said he didn't believe Giroud was good enough to be the main forward leading Arsenal's attack.
The Frenchman has been chipping in with the goals lately. But now, with Walcott out for three weeks, it's time to prove the doubters wrong, and convince Wenger he can lead the Gunners to a Premier League title, starting against Swansea on Saturday.
5. Spurred on
Spurs are unbeaten since the opening day of the season.
They've recorded a 4-1 win over Manchester City. Harry Kane is back in form after his hat trick against Bournemouth last weekend, and they are 6th in the table with a terrible Aston Villa to visit White Hart Lane on Monday night.
Spurs should be feeling pretty good right now. Expect them to pile more misery on Villa.