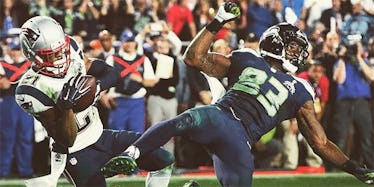 From Popeyes To Patriot: Malcolm Butler's Super Bowl Story Is Insane
Facebook
How Malcolm Butler went from being one of the unluckiest defenders on earth to the most resilient and unlikeliest heroes in Super Bowl history, all in the span of three plays, is almost beyond belief.
Take one look at Butler's résumé, though, and it won't be long before you realize the moment fit him like a glove.
That is a point emphasized by a question one of his teammates asked him before the game.
Before the action began in Arizona on Sunday night, Patriots lineman Rob Ninkovich asked to the 5'11" cornerback,
Where were you a year ago today?
The answer makes Super Bowl XLIX's dramatic finish that much more incredible.
A season ago, Butler was on the roster of the West Alabama Tigers football team, which competes in Division II's Gulf South Conference.
Even then, his existence as a student-athlete at a school that sounds like a fictional institution seems glamorous compared to where he came from.
In 2009, after two non-successive seasons of high school football, Butler played for Mississippi's Hinds Community College for just five games, before getting kicked off the team.
By 2010, Butler's football career was seemingly over.
He was no longer an athlete. In fact, he spent more time at a place where most athletes would never go, Popeyes, where he picked up a part-time job.
But, what might have been the end for most turned into a necessary source of motivation for Butler.
In August, he told the Providence Journal's Mark Daniels,
That just made me realize how bad I wanted it and how bad I really needed it. You don't know how good it is until it's gone.
Butler's progression from that point is a sign of a man who never looked back. As Daniels notes, he took classes at Alcorn State University that summer to get his academics back in order.
By the 2011 season, he'd been invited back to Hinds, where he was impressive enough to earn a transfer to West Alabama the very next year.
In his two seasons at UWA, Butler was a D-II All-American, at which point, if we're truly honest with ourselves, his fairytale probably should have ended.
The Vicksburg, Mississippi native did, after all, go undrafted during last year's NFL draft and there were plenty of other undrafted players, from much more prestigious schools, that teams could have picked up.
But, his résumé was just good enough; he earned a chance at a roster spot on the Patriots' squad.
It is there, at the Pats' training facility in Foxboro, Massachusetts, where Butler's story launched into a whole other dimension of remarkable.
During practice sessions, he earned the nickname "Scrap," because of how hard he fought for every play and his competitive spirit.
This past summer, he told ESPN's Lee Schechter,
When I see a big guy, any great guy lining up on me or I line up on him. you are going to get the best out of me because you are hoping to get me, but I'll hopefully get you.
In preseason, he rode impressive exhibition performances into winning a place on the team.
And after enduring a streak of three games where he was ineffective, Butler was noted for showing promise in garbage time against the Bears during Week 8.
Slowly but surely, Butler established himself in New England. Still, not many could have predicted this, partly because it sounds so ridiculous at face-value.
In the biggest show in sports, the Patriots' savior turned out to be a rookie with a Wikipedia page that, just to be sure, denotes he does indeed play American football.
In the span of just one minute of play, Butler went from the goat of what was supposed to be the Patriots' third successive championship loss to producing the GOAT of all Super Bowl crunch time plays this side of the new Millennium.
Somehow, some way, the player who only played some football in high school and never made it to the Division I level in college made the biggest play of the NFL season, all in a way that perfectly embodied his comeback story.
During his battle for a roster spot, Butler told Daniels,
It's just that diehard attitude to never give up. If I gave up I probably would've been the manager at Popeyes right now, if anything. I didn't give up. I just stuck with it and just believed.
Good thing he did, and still does, because the rest of us hardly can.