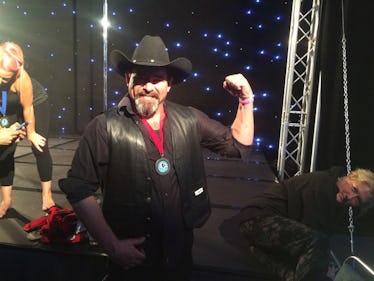 8 Very Important Things I Learned While Attending A Pole Dancing Competition
Regional Pacific Pole Champ Championships.
The "attitude change," the "frodo," the "frog" and the "crucifix climb" are just a few of the moves you'll likely never be able to do, but for the athletes of the Pole Sport Organization, these moves and more are just a few of the classics.
The PSO hosted the Regional Pacific Pole Champ Championships in Los Angeles a few weeks ago, and Elite Daily was lucky enough to tag along and see some of the epic moves in real life.
Let's make one thing clear: These aren't strippers, though it's pretty obvious the overwhelming majority of attendees and participants are cool with you doing you.
This is a very fun, but very serious, athletic creative competition, which has grown exponentially in size and popularity since the first competition moved from outside the "gentlemen's club" and onto the sporting stage back in 2008.
1. Some awkward moments are still unavoidable.
When I first walked into the Los Angeles Convention Center on Saturday, I was a little thrown off. Standing all around me were dozens of underage girls going through dance routines, stretches and posing for photos.
I sheepishly walked up to the registration booth to check in as a member of the media and was politely informed I had accidentally walked in on the USA All-Star Championships for cheerleading, which was being held in the same building at the same time, because, of course.
And, perhaps, not coincidentally, a number of women I interviewed at the actual Pole Championship told me they had previously been competitive cheerleaders as kids.
2. There are amateurs and professionals.
The first half of the day was dedicated to workshops and competitions for amateur pole dancing competitions, including categories ranging all the way from Dramatic and Entertainment Level 1 Juniors to Level 4 Masters.
The performers were fierce, but when they all gathered on stage afterward for the awards ceremony, there was an overwhelming sense of support and community. All of the winners got big hugs and cheers from their rivals.
3. Men compete here, too.
In fact, one of, if not the largest, round of cheers went for "The Cowboy Poledancer," a 54-year-old dude originally from Kansas who was literally dressed in a big black cowboy hat, leather boots and jeans. He had just placed second in the Level 4 Masters.
"I first got into this when I walked into a studio that taught self-defense and pole dancing," he told me.
I didn't want to beat anybody up and I didn't want to get beaten up, so I went for the pole.
He added, when he first started, he literally couldn't lift his feet two inches off the ground. But it wasn't long before he and his wife were attending regular classes and wowing folks with his surprising, newfound athleticism.
This was his first formal competition, but he says he wants to do more.
I've never experienced anything like this in my life.
4. There's all kinds of funny and cool merchandise for sale.
As the main stage was being set for the evening's competitions, I wandered to the back of the hall where several tables were set up, offering all kinds of gear: clothing, accessories and inspirational shirts that demanded you "dance like you f*ck." Words to live by.
Even the vendors were part of a close-knit community and told me they pole danced as well.
5. There are trophies and prizes -- but no cash.
Nearly everyone I talked to said they were strictly there for the art of the performance, but that didn't mean there weren't bragging rights. Trophies were awarded to all who placed, and the event sponsors also chipped in gift certificates for equipment and classes.
Twenty-five-year-old Brian Wolf from Choreography House in Los Angeles told me he didn't expect to win, but now, he gets to prepare for another competition in just a month and qualifies to move on to the next round for the National Pole Championships, held later this year.
6. The soundtrack is awesome.
This was not your standard, douchey bro mix, straight out of an 80's hair metal video (though, I'm sure that would have been cool too).
The first professional competitor of the night opened with Bjork's "So Broken," while later performances included songs from Rhihana, Meg Myers, Janis Joplin and even a 70's disco medley.
But the most touching moment of the night was probably Rhyn Chung's choice of "Boys in the Street" by Greg Holden, a gut-wrenching acoustic track chronicling a guy's lifelong relationship evolution with his homophobic dad.
7. The lyra competition is intense.
The lyra, also known as an aerial hoop, was a big draw during the professional competition as well. Four different women competed in-between pole sets, performing breathtaking moves that literally had the audience gasping repeatedly.
You've probably seen the lyra in action if you've ever been the circus or seen a Cirque Du Soleil show, but the intimate setting here took it to a whole different level.
8. It's a big deal and is only getting bigger.
When professional competitions started less than 10 years ago, there was one organization and a handful of women who competed. Today, pole-dancing studios are everywhere, all around the world. Competitors showed up here representing their crew the same way professional body builders or gymnasts broadcast bragging rights of where they learned their moves.
Twenty-six-year-old Kaitlyn Barclay told me she was initially drawn to the "taboo" nature of the pole, but her background in yoga and athletics quickly transitioned into developing routines inside the studio and on the competitive stage.
"I try to lead by example," she said.
I teach both 'sexy' classes but also strength training pole classes. The talent is getting more fierce and for me it's all about personal growth.
The venue was packed, with spectators having to be taken to their seats in waves over the opening rounds. In fact, there was regular talk at the event about when, not if, pole dancing will eventually become an Olympic sport. It's still likely several years off, as any new sport has to meet a strict set of international governing requirements.
But if you were betting, bet on seeing the first gold medal winner in pole dancing sometime around 2030.