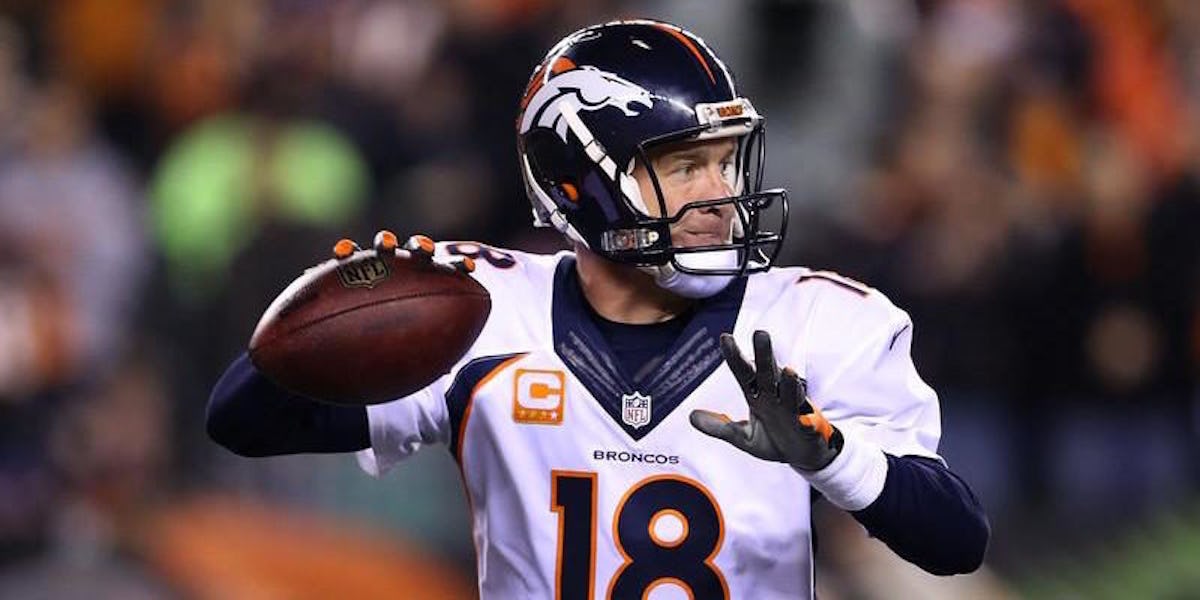 'Clean-Cut' Peyton Manning Allegedly Sat Bare-Ass On Female Trainer's Face
Getty Images
In what has been a dark year for the NFL, a positive story finally emerged from one of the class acts of the league last night.
Peyton Manning surpassed Brett Favre's all-time scoring record of 509 passing touchdowns and now sits at the top with 510. This is, of course, one of quite a few mind-boggling accomplishments under the gunslinger's belt.
While his achievements are impressive, it's important to remember Peyton is indeed human, and has made his fair share of mistakes.
There was that 43-8 debacle against the Seahawks in the Super Bowl last season, and if you want to dig up his past, then you'll surely find something worth mentioning.
About a month ago, The Big Lead surfaced an interesting story about Peyton's college days in Tennessee. It's the type of story that, if it had taken place in today's Twitter-driven society, would've made major headlines.
The year was 1996, and Manning was a junior for the Volunteers. During a foot injury checkup with the team trainer, Jamie Ann Naughright, things apparently got a little weird.
According to USA Today, she was examining Manning to see why he was having pain in one of his feet. While she crouched behind him, "entirely unprovoked, Peyton Manning decided to pull down his shorts and sit on Dr. Naughright's head and face."
Naughright described it in a deposition entered into the court record:
It was the gluteus maximus, the rectum, the testicles and the area in between the testicles. And all that was on my face when I pushed him up… To get leverage, I took my head out to push him up and off.
Mind you, Peyton was a 20-year-old at the time, which is coincidentally the same age of the Florida State star quarterback, Jameis Winston.
Of course, Jameis has been making it hot for himself, acting out in public and there was that whole crab legs scandal. But, just imagine if he did what Peyton did (if true) to a young female athletic trainer and she reported it?
At the end of the day, this is nothing but speculation, and Peyton truly is one of the most respectable men left in the world of sports, with a work ethic to prove it.
But, as a college kid 18 years ago, he was just as ratchet as the rest of us.