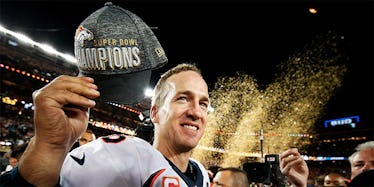 Peyton Manning Officially Announces His Retirement From The NFL
Getty Images
Peyton Manning formally ended his NFL career.
Following a Sunday announcement from the Denver Broncos that stated Manning would retire this week, the 18-year veteran brought an official close to his tenure at a news conference this afternoon.
Manning set records for MVP awards won (five), career passing touchdowns (539), career passings yards (71,940), touchdowns in a single season (55) and many others in 17 seasons on the field.
After over a decade of dominance with the Indianapolis Colts, Manning experienced a career renaissance with the Denver Broncos, the team to which he headed following a missed 2011 campaign due to injury.
Manning also appeared in four Super Bowls and won two of them, with his latest coming just a month ago today at Super Bowl 50 via a 24-10 victory over the Carolina Panthers.
And now, that win affords him the luxury of riding into the sunset as a champion as he officially calls it quits.