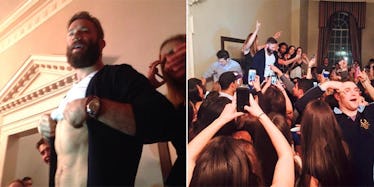 The Patriots Raged With Harvard Kids At A Party And Broke A Girl's Arm (Photos)
Twitter
The Patriots are doing it right, guys. The Patriots are doing it right.
Following their suspenseful Super Bowl win over the Seattle Seahawks last Sunday, the Pats have done the following:
1. Partied with Rick Ross in Arizona
2. Paraded around Boston
3. And, as breaking developments indicate, partied with Ivy League kids
They are absolute legends.
And the best part about it? It's the absolute stone cold truth.
A random tipster, God bless his heart, alerted BroBible of the stunning news, with photo evidence.
Here's how it basically went down.
According to BroBible's tipster and the other students sending them information:
Sometime before Wednesday night, word began to spread that certain Pats players would be visiting a certain Harvard social club depicted in "The Social Network." Girls at Boston University caught word of the champions' arrival, too, and were in attendance that night.
Other players mentioned by tipsters as being in attendance were Darrelle Revis, Kyle Arrington, Michael Buchanan and Danny Amendola. The suspected connection between the players in the club? According to the first tipster: "Some guy in the club knows some sports agent or his dad is some agent and every once in a while some athletes come by..."
The club was said to have kept a strict guest list, while many students attempted to sneak in through other entrances. Meanwhile, a girl, for some reason, challenged Amendola to an arm-wrestle. She obviously lost and he broke her arm, which led to this "meme" floating around Boston University the next day.
A tipster who contacted Barstool Sports, however, claims Amendola wasn't there. But, the rest of the story appears to be true, with one Twitter user identifying and adding more pictures from the night, and shouting out the social club's identity.
partied w/ Julian Edelman at Harvard last night #phoenix #patriots #superbowlchamps pic.twitter.com/ywGd8BX3uQ — clare stonich (@clurrbearrr) February 5, 2015
Cool story, bro. I actually mean that.