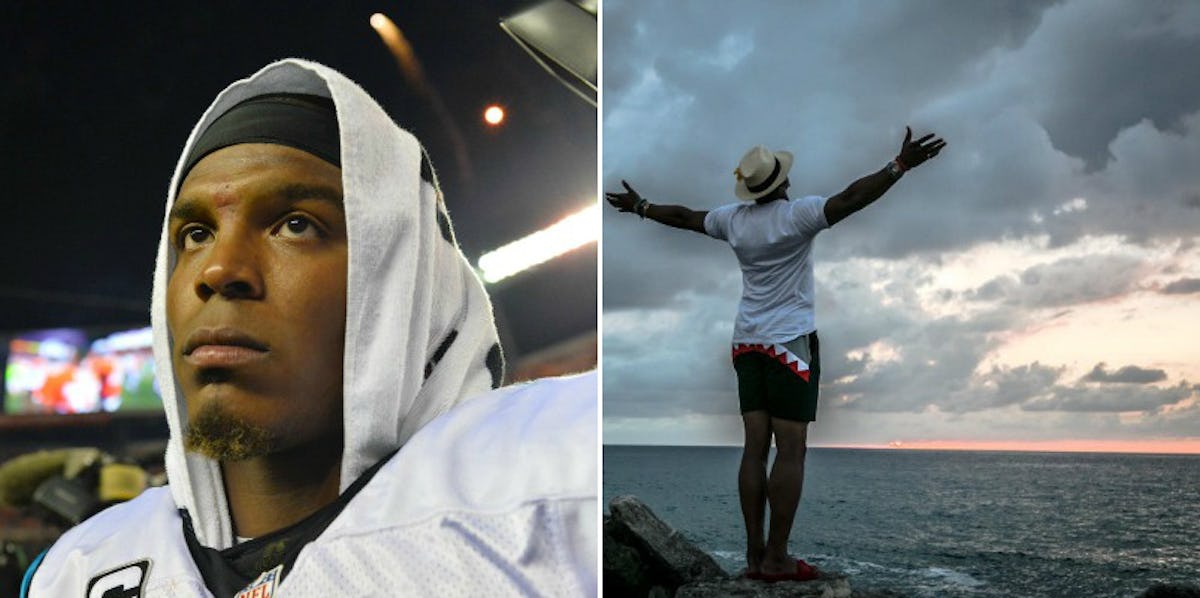 The Carolina Panthers Are 1-5, So Cam Newton Spent The Week On Vacation
USA TODAY Sports/Instagram
Well, it looks like it's all over for the defending NFC Champion Carolina Panthers.
Suffering from an apparent Super Bowl hangover, Ron Rivera's Panthers stumbled out of the starting block this season and now find themselves with a 1-5 record, good enough for last place in the NFC South.
Thankfully -- depending on how you look at it -- the Panthers had a bye this past week, which meant it was physically impossibly for them to lose an NFL game.
Now, you might think quarterback Cam Newton, Carolina's best player and leader, on and off the field, would've spent the bye week watching game film, getting in some extra practice reps, hanging with teammates or doing anything related to the Panthers and the game of football.
However, you'd be dead wrong.
See, instead of taking his and his team's preparation to the next level ahead of a crucial game at home against the Arizona Cardinals this Sunday, Cam Newton spent the bye week on vacation.
I'm talking the beach, the pool and not a football in sight.
According to reports, Cam Newton was asked by a reporter on Wednesday if he used the bye week to evaluate his season thus far. Apparently, the reporter referenced the above vacation photos Cam Newton posted on Instagram.
Speaking to the reporter about his IG pics, Newton said,
Did you like it?
Apparently, the reporter said wherever Cam was looked better than Charlotte, North Carolina, to which Cam replied,
But did you like it, though?
The reporter said he wan't on Instagram and asked Newton if he should repeat the initial question, to which Cam Newton reportedly said,
No. I want you to go back and like the picture.
I mean, if you're going to go into full-on-fuck-it mode, I guess you have to go all the way.
Hey, at least it looks like Cam Newton had a blast on vacation, right? It'll probably be the highlight of his season.
Citations: Cam Newton razzes reporter over not liking his Instagram posts (Sportress of Blogitude)