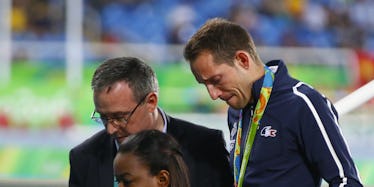 French Olympian Renaud Lavillenie Booed Not Once, But Twice At Rio
Fernando Soutello/AGIF/REX/Shutterstock
Getting booed once must be rough, but getting booed twice in 24 hours?
If this happened to me in high school, I'd probably have to change my name, grab my bindle stick, move to a different town and never see my friends and family ever again.
Well, that's exactly what happened to French Olympian Renaud Lavillenie. I'm referring to the booing, not the changing of names and skipping town.
On Monday night, the pole vault silver medallist was booed just prior to his final vault. No, the "boo"s were not a result of an audience of ole timey ghosts.
The crowd was straight up heckling him, which they then did again during the medal ceremony.
Competitor, and Brazilian gold medallist, Thiago Braz da Silva admonished the crowd's behavior, calling it "unacceptable at the Olympics."
Calling your bae "boo?" Acceptable. Screaming "boo" at an Olympic athlete? Unacceptable.
Olympics chief Thomas Bach called the crowd's reaction "shocking." I don't blame him for saying so, seeing as how the unruly crowd made the 29-year-old Frenchman cry while he was receiving his medal.
No one should cry at their medal ceremony, unless the tears are ones of joy.
After the emotional moment, Renaud was consoled by Da Silva, the president of IAAF Lord Coe and former world champion of the pole vault Sergey Bubka.
Don't your worry, Renaud. Let Sergey take care of you, K?
However, Renaud majorly crossed a line when he compared the booing he received to Jesse Owens' treatment at the 1936 Berlin Games.
Yeah, getting booed sucks, but it's not like you were an African American in a stadium full of effing Nazis, Renaud.
Anyway, he has since apologized, and said that he made the Owens remark when he was very upset.
Get it together, Rio. You just bullied one of your guests. Not cool.
Citations: Rio Olympics 2016: Renaud Lavillenie being booed 'shocking' - Thomas Bach (BBC)