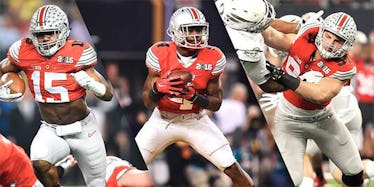 Why The Ohio State Buckeyes Won't Repeat As College Football Champions
Facebook/College Football on ESPN
All college football fans across the nation were excited when the league implemented the playoff system to replace the Bowl Championship Series.
The underdogs would now get a better chance of proving they belong with the big dogs, the big dogs got a chance to be exposed, and politics could not — and would not — play a part in football any longer.
The 2014 college football season had each team playing harder than before, all in order to get into the exclusive College Football Playoff. One team nobody thought would make it, especially after an embarrassing Week 1 loss to Virginia Tech, was Ohio State.
When Ohio State busted onto the scene, many thought they were a fluke, including myself. The Big Ten conference is often considered a joke, and losing their two starting quarterbacks to injury, leaving a third-string as the starter, seemed to be the end of their run.
But that didn't seem to slow down Ohio State. Upon being chosen for the playoffs, the Buckeyes were slated to play against the elite and almighty Alabama. The name alone strikes fear into opponents.
We all thought this would be the end, a 49-0 blowout in favor of the mighty Crimson Tide, but Ohio State had other plans. The Buckeyes came away with the win and then faced Oregon, a game I thought be would be the best I had ever seen.
Ohio State surpassed those dreams and went on to become the first ever "National Champions."
All went well for the Buckeyes. They shocked the world by beating Alabama, displayed the amount of talent they possessed and proved that the playoff system worked. The underdog can come out on top.
It was quite the Cinderella story, and sadly, it will end there.
Ohio State will not repeat as National Champions, despite the fact they have a host of returning talent, including Braxton Miller, Ezekiel Elliot, Joey Bosa, Jalin Marshall, Johnnie Dixon and the dynamic duo at quarterback, Cardale Jones and JT Barrett.
It is all a great recipe for success, but it's also a formula for disappointment.
Ohio State has a rugged road ahead of them this fall, with their first game of the year at Virginia Tech. They are still celebrating their win at Ohio State last fall, and they will be looking to keep that momentum going.
Ohio State has been talked about immensely since their championship run, and often times, when you are on top, you lose sight at who is planning to dethrone you.
Playing in the Big House with Michigan will be a big task for the Buckeyes, as two years ago, they barely got out of Ann Arbor with a win. Michigan is sour about that, and with the addition of Jabril Peppers, things will be tough.
Michigan will win in overtime and spoil any chances of Ohio State repeating.
Complacency is common among 18- to 23-year-olds. We often get it, and then we fall off. On rare occasions do we stay on track.
Ohio State feels invincible; they feel as if they cannot be touched. This will lead to their demise, and it's another reason they will not be repeat national champions.
Unless you are Arnold Schwarzenegger or Alabama, it is not common to repeat. Ohio State will not join this elite category because the target on their backs is too large. Michigan and Virginia Tech have payback written all over them, and they are ready for the challenge.
Ohio State has a lot of stars, but they are dimming.