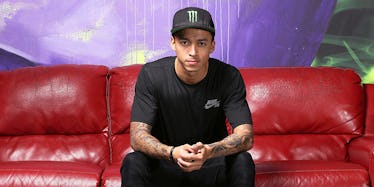 Nyjah Huston Talks Skating Success, Nike SB And Clean Water In Ethiopia
Nathan Groff
Though he's just 21 years old, Nyjah Huston is already the biggest name in professional skateboarding.
The Davis, California native has won more prize money than any skateboarder in history and has racked up a trophy case full of Street League and X Games medals. And if you go beyond the sick tricks and career-defining wins, you'll find a dude who's about way more than just fame and fortune.
For instance, Huston is just as passionate about bringing clean water to those in need as he is entertaining the crowd with his sublime skateboarding skills.
Grilled about the oddity of being a 21-year-old veteran, Nyjah Huston told Elite Daily,
Honestly, yah, it feels like I've been skating for so long. I've been skating since I was 5 years old. I've been skating in pro contests since I was 11. It's already been a while, and it's pretty tough on the body. I definitely have to do a lot of physical therapy and take care of my body as much as possible. But it's fun, and that's all that matters.
Hey, he is still a 21-year-old, right?
Nyjah began blazing his path to becoming a professional skateboarder when he was about 11 years old. And while things started to happen unbelievably fast, Nyjah attributes his victory at the prestigious Tampa Am competition as his life-altering moment.
He told Elite Daily,
I would say winning Tampa Am was definitely one of the most important parts of my career. It's an important part of any amateur skater's career to win that contest; it really helps you get from that lower amateur level to the higher amateur level where everyone starts to recognize you.
While Nyjah was mastering both tricks and the competition, other kids his age were just trying to make it through the sixth grade. You might expect all of this would overwhelm someone so young but apparently, it actually worked in his favor.
He explained,
It all happened so quickly. The good thing for me was not even realizing the position I was in, just simply skating every day because I loved it and I just wanted to get better at it.
So often we see prodigy athletes hyped up to impossible levels of attainability, and they end up burnt out before they even begin to reach their potential. Nyjah's calmness and confidence are proving to be his greatest assets in avoiding that pitfall.
He told Elite Daily,
When I'm skating in contests, I'm not really thinking about the money part of it. Obviously it's a plus to skate in a contest for 100 grand. At the same time, just winning is more important... and not only winning, but feeling like I'm out there skating at the level I want to be skating at. I try not to be too hard on myself. As long as you feel like you're skating at the level you want to be, you should be pretty stoked.
Nyjah's early success has garnered him numerous opportunities, such as sponsorships with Element, Diamond Supply Co. and Monster Energy, but his recent deal with Nike SB, a skate brand that bridges competition, culture and style, is an absolute game-changer.
This isn't lost on Nyjah. Speaking with Elite Daily, he gushed,
I'm so stoked to be a part of the Nike team. It's a dream come true, Nike is the biggest skate shoe sponsor out there. I've always loved Nike, ever since I was a little kid.
Even though he's beyond pumped about his Nike SB deal, Nyjah refused to budge on any details, saying,
I'm going to have to put a lot of time and thought into that one. Something is definitely going to be in the works. It will take a little bit of time, but I'm definitely going to try and make it my best shoe ever.
In addition to helping him rack up some serious sponsorships, Nyjah's skill and style have made him a huge fan favorite. He has 1.5 million Instagram followers and over 2 million Facebook page likes.
But if you ask Nyjah which of his accomplishments he's most proud of, you'll undoubtedly hear about his charity foundation, Let it Flow, which works to bring clean water to those in need.
Nyjah told Elite Daily,
My mom and I started the Let it Flow charity a few years ago, and it's been a really cool process trying to help people repair and build clean water wells around the world. We've done multiple projects already, and each well we repair or build helps provide clean water for a couple thousand people. It's really an amazing feeling. [caption id="attachment_1364115" align="aligncenter" width="500"] Jonathan Mehring[/caption] About a year and a half ago, we did our first trip out to Ethiopia. We went out there with some skaters, Tony Hawk was a part of it, and my mom came out with a bunch of other people. We got together with a community of kids and built them their first skate ramp ever. It was awesome to see the passion they had for skateboarding and just how stoked they were on the most simple things.
To speak with a 21-year-old who has such a mature grasp and positive view on life was nothing short of inspiring. Even when I attempted to throw Nyjah off with a question about his future in skating or his goals after he hangs it up, he remained focused on 2016.
The first major contest coming up is X Games in Norway, which is pretty interesting. It's going to be super cold out there, but they're doing an indoor skate competition, which is going to be sick. I'm actually a quarter Norwegian, too, so it's going to be cool to go out there for the first time.
After a little more prodding, Nyjah did eventually open up about his plans for the future, but his answer was consistent with his even keel.
He told Elite Daily,
Five years from now, I hope to be in my prime. It's a little hard to say because skating takes such a toll on your body, but I think as long as I keep practicing, keep taking care of myself, keep progressing every year, I'll be skating better than ever.
He may already be the best, but for Nyjah Huston, the only place to go is up.