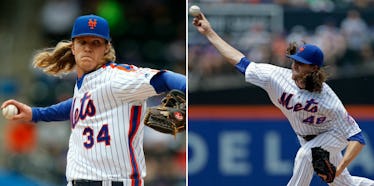 Noah Syndergaard And Jacob DeGrom Talk Style And The Power Of Chicken Nuggets
USA TODAY Sports
It doesn't matter whether you're mowing down Major League hitters with 96 mph fastballs or making sure you're the first one at the office meeting on Monday morning: You always have to be prepared to perform at your best.
Some days, that's easier said than done. But after speaking to New York Mets aces Noah Syndergaard and Jacob deGrom, I know that the tools with which you prepare for success are just as essential as the preparation itself.
On Tuesday morning, I joined starting pitchers Syndergaard and deGrom on the Upper West Side of Manhattan to talk about what goes into their pregame routines, how they manage to keep their long hair so neat and stylish and what they eat to stay ahead of the competition.
Elite Daily: What's the key to staying fresh and being ready to go once every fifth day, no matter what?
JD: I think having a good routine you follow, whether you're pitching good or not. I think that's why you come up with a routine, to prepare yourself the best you can for a game.
NS: Routine is key. They don't call it "the grind" for no reason.
[Playing] 162 games definitely plays on the mental side of the game, and to go to the park each day and know exactly what you have to do keeps things simple.
ED: Speaking of routine, does it take you forever to get your long locks of hair styled and prepared for when you pitch?
JD: With the AXE products, it definitely doesn't take that long. I get out of the shower, towel dry my hair and put a little bit of the Natural Look in there. Then, I'm ready to go. It's that simple.
If it's a 7:10 pm game, I'll normally get a shower around 5 'o'clock. I'll put some AXE Natural Look in my hair, and then let it just air dry.
NS: One of the main reasons I'm so fortunate to partner with AXE is they make it so easy to go out there and style your hair.
It's a big thing for me because it gives me extra confidence when I go out there, and it's also really functionable.
The Softening Cream gives [my hair] that little bit of extra firmness and keeps the hair out of my eyes when I'm pitching.
ED: What's the one food item you can't live without?
NS: One food item? I'm a big fan of sweet potatoes.
JD: Chicken fingers. I love them.
I like chicken fingers, cheeseburgers, pizza and Mountain Dew. I try to keep a healthy diet.
Well, there you have it.
Chicken fingers may not be the healthiest option for you to perform at your best. But when you consider the fact that so many dudes don't regularly style their hair, don't you think taking a few extra minutes in the morning to give yourself a fresh look could have a huge payoff?
Putting in the extra effort doesn't mean you're trying too hard: It means you actually care about your appearance and performance.
If it works for Noah Syndergaard and Jacob deGrom, I'm definitely willing to give it a shot.