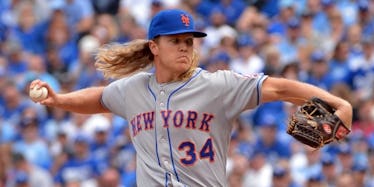 Mets Pitcher Threw So Hard, He Branded His Catcher With A Crucifix Welt
USA TODAY Sports-Denny Medley
In case you haven't been paying attention, New York Mets starting pitcher Noah Syndergaard throws the ball really, really hard. He routinely reaches speeds above 100 mph on his fastball, and he has a devastating changeup, which clocks in at above 90 mph.
Monday night in Philadelphia, the 23-year-old Syndergaard had his stuff firing once again. At one point, he threw a pitch so hard, it nailed catcher Kevin Plawecki in his chest protector and left a crucifix welt on his chest.
Can you say 2016 Cy Young Award front-runner?
As you might expect, the Internet is freaking out just a bit over the power of Syndergaard.
I think it's safe to say Noah Syndergaard might just be the hardest-throwing starting pitcher in baseball.
Did we mention Syndergaard is aptly nicknamed after a superhero?
Hide the women and children!
Of course, there were many who were quick to point out the obvious: It appears Kevin Plawecki shaves his chest.
Where they do that at?
Citations: Noah Syndergaard pitched so hard he left a crucifix-shaped welt on his catcher (SB Nation)