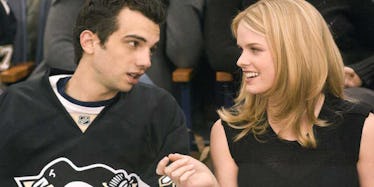 Avoid The Penalty Box: What A Guy's NHL Team Says About The Type Of Boyfriend He'll Be
Dreamworks SKG
In sports, each new season signifies a fresh opportunity.
And while every team will have its fair share of fresh faces, no doubt, it will never have a completely new identity.
Over time, a team's philosophy and style become ingrained within the fabric of the franchise -- not just through its players, but with its fan base as well.
So, it's only logical to draw conclusions about a man based on the NHL team he supports.
If you're dating an NHL fan, here are the 30 things you'll know about him as soon as the puck drops on your relationship.
Anaheim Ducks
This guy is young, but after suffering a major identity crisis, he got his sh*t together. Now, he's consistently on the right track, and he'll make sure you know that at every opportunity.
Arizona Coyotes
This guy will cling to the first girl who gives him the time of day. He's got nothing to go on and not much to look forward to. He's playing the game, but he's barely trying.
Boston Bruins
This dude is as hard working as they come. He's old school in his approach to everything, but that methodology has seen him fall behind in recent years. We all have to change with our partners, and he has to figure out how to do that.
Buffalo Sabres
If you peruse his past, you'll probably think you just landed the catch of the century. But you've been warned. This guy's fallen on hard times in recent years, and it may be too much for you to handle.
Calgary Flames
This guy is so hot and cold, he'll make you rethink your entire existence. When the love is there, it's hard to beat, but it might not be enough to get you through the colder months of the year.
Carolina Hurricanes
He's flashy and fun on the surface, but he's just got too much going on to stay focused on you. You'll find yourself wondering why you're trying so hard to make a relationship work when only one of you cares.
Chicago Blackhawks
A winner in every sense of the word. This dude has the look of a champion and a pedigree to match. Sure, he'll be the instant target of any girl who sees him, but he'll stay loyal and faithful as long as you do.
Columbus Blue Jackets
He's full of youthful exuberance and most definitely still in that "figure it out" stage of life, but don't be so quick to let that be a deterrent. You're only young once, and often times, fortune favors the bold.
Colorado Avalanche
He doesn't look like much on the surface, and on another night, you might've passed him over completely. But after spending an hour or two with him, you'll realize he has so much more to offer than just getting stoned and eating pizza.
Dallas Stars
This guy is considered by many to be a fish out of water, but hell if he cares. He knows his contemporaries whisper behind his back, but that only propels him to work harder. He'll be the lover you can depend on in moments of need, but he isn't afraid to ride the mechanical bull at the bar.
Detroit Red Wings
He's used to succeeding at almost everything he tries, but that's not to say sh*t comes easy for him. Trust him when it matters most, and you'll rarely be let down. He's the guy you bring home for Thanksgiving for the first time who ends up carving the turkey by the time dinner's served.
Edmonton Oilers
After scoring unbelievably high on the SATs and going to the college of his dreams, this guy's straight-up flopped. He hasn't sniffed the prospect of a solid job in years and at this point, he probably wouldn't know if one bit him on the ass.
Florida Panthers
This guy is way too distracted to give you, or anything else that matters, the time of day. He's broke, has few prospects and would have no qualms about breaking up with you via text message.
Los Angeles Kings
After years of trying to figure it out, this guy finally made a plan and stuck with it. You'd consider yourself lucky to be a part of those plans, but make sure he knows how lucky he is to have you by his side.
Minnesota Wild
This guy is the definition of boyfriend material. He's loyal, giving and will fight like hell to keep you two together. The only problem: He's yet to experience a real long-term relationship. You'll have to be willing to go through the growing pains and learning process.
Montreal Canadiens
He's a modern-day Superman. He literally saves the day at every opportunity, but while that's really charming at first, just make sure he knows you're the one who needs to be saved first when push comes to shove.
Nashville Predators
This dude is a bit younger than you, but he's more than ready to step out of big bro's shadow. He'll love you unconditionally and take you to heights neither of you previously thought attainable. Buckle up, you're in for a ride.
New Jersey Devils
To say this guy is in a transitional stage in his life would be putting it lightly. He hasn't been in a serious relationship in years, and that should throw up a red flag as far as taking the next step.
New York Islanders
After years of living at home, this guy finally moved out of mom's basement. So, you have to be willing to deal with the growing pains and uncertainty that accompany such a big schism. If you're looking to get serious quick, you may want to reconsider your options.
New York Rangers
He has all the brash and bravado of a Fortune 500 CEO, but he still lacks the ability to come through when it matters most. He's dependable, sure, and you'll get all the perks the big city has to offer, but will that leave you satisfied in the end?
Ottawa Senators
His biggest problem is he comes from an area where greatness is expected. There's a lot of uncertainty in his life, so be prepared to walk him through step by step, or else throw up the deuces.
Philadelphia Flyers
This guy will regale you with stories from the glory days of years past, but if you'd rather live in the present than date a history book, leave now. Don't walk, run. And whatever you do, don't look back because you might be tempted into staying with one of those stories of bravery and triumph.
Pittsburgh Penguins
This guy's in an on-again, off-again serious relationship with a girl who isn't you. You'll never be her, but you'd always be compared to her. Save yourself a ton of effort and heartache and set your sights elsewhere.
San José Sharks
He's a fun-loving, energetic guy who'll make you laugh without even the slightest effort. But a relationship needs to be based on more than just jokes, good times and fish tacos. When sh*t hits the fan, you may have a hard time locating this guy.
St. Louis Blues
This guy has the promise of the complete package, but just when things appear to be at their best, that's when you're going to be the most disappointed. It's hard to turn down a good thing, but just be prepared to live an emotional roller coaster.
Tampa Bay Lightning
He couldn't get a date for years, but now he's quickly becoming a perennial top pick. Make sure he knows you're in it for the long haul, otherwise you could find yourself on the bench.
Toronto Maple Leafs
This dude is about as deluded as they come, and he's the perfect example of why you should never judge a book by its cover. He'll go on and on about why he's the ideal man for you, but when push comes to shove, you can't build today's relationship on yesterday's promises.
Vancouver Canucks
This guy is nearing the end of a lengthy relationship that never quite delivered on its promise and potential. He clearly has difficulty letting go of the past, and that's not something you need to get involved with right now.
Washington Capitals
On paper, this guy has all the makings of the guy you want to grow old with. But then, you look at his track record and start to wonder why he's still on the market. He'll love you for sure, and maybe you really are the one, but don't be fooled by all the potential.
Winnipeg Jets
He doesn't even know who he is, so how the hell is he going to know a good thing (you) when it walks into his life? Don't waste your time.
Citations: Hockey Statistics and History (Hockey Reference), Power Rankings: Let's get this party started! (ESPN)