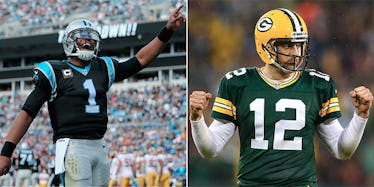 QB Power Rankings: The 8 Remaining Quarterbacks In The NFL Playoffs
Getty Images
The divisional round of the NFL playoffs are upon us, and some of the best quarterbacks in the league are among the eight teams remaining.
Here is a power-ranking of those QBs, who I believe all have the ability to carry their team to a Super Bowl 50 victory:
1. Tom Brady
Tom Brady's record and numbers speak for themselves.
The former sixth round draft pick has developed into one of the best quarterbacks in the history of the game and he continues to prove himself year after year that he's still got it.
He will definitely be put to the test this weekend against a Kansas City Chiefs defense that has been lights-out this season, especially in recent games.
But if anyone can exploit the weaknesses, even in a strong defense, it's Brady.
The 11-time pro-bowler, four-time Super Bowl champion and three-time Super Bowl MVP clearly knows what it takes to win, and regardless of the talent around him, somehow always seems to make it work and overcome adversity.
You can simply never count him and the Patriots out.
He is deserving of this top spot.
2. Aaron Rodgers
I consider Aaron Rodgers the best quarterback in the NFL at the present time.
Unfortunately this year, he hasn't had the supporting cast around him to allow him to flourish.
Part of this problem is the offensive line, and the lack of protection they are providing Rodgers in the pocket.
Yes, he is one of the best at scrambling and making plays that way, but without pocket-protection, there is only so much he can do on his own.
And because of this, his numbers have suffered a little this year, especially in the later part of the season.
Last week, however, things started to come together, and the Packers pulled off an unexpected victory against the Washington Redskins.
Perhaps this is the start of a playoff run for the Packers.
First they have to get past the impressive Arizona Cardinals, who have been clicking on all cylinders.
I believe if anyone can do it, it's Aaron Rodgers.
3. Ben Roethlisberger
As a die-hard Baltimore Ravens fan, putting Ben Roethlisberger this high on the list was conflicting for me.
However, not even those who dislike the Steelers' QB, can knock the fact that he is a pure talent at the position.
He always seems to find a way to win in any scenario, and frustrates opponents and their fans to no end.
Roethlisberger has an uncanny ability to accurately throw the ball whether it is inside or outside of the pocket, and turns what should be negative plays into positive gains time and time again.
He is simply a nightmare for opposing defenses. The question this week is whether or not he will start against the Denver Broncos after suffering a shoulder injury against the Cincinnati Bengals last week.
He is certainly no stranger to playing in pain.
And don't be surprised if he miraculously pulls off another unexpected victory.
4. Cam Newton
Cam Newton is having an MVP-worthy season, leading his Carolina Panthers to a 15-1 record and the top seed in the NFC.
He has certainly become one of the most well-rounded and dangerous quarterbacks in the league.
Defenses always have to be wary of his mobility in addition to his arm, making him one of the toughest to defend at the position.
He has scored an impressive 45 total touchdowns this season, 10 of which were on the ground.
He will be up to the test Sunday against a Seattle Seahawks defense that is ranked first in the NFL in total defense. But matching up against Cam Newton is never easy, so don't let those dominating stats fool you.
Newton's versatility has gotten him this far, and could very well carry him and his team to a Super Bowl 50 championship.
5. Russell Wilson
While his physical stature is not that of a typical NFL quarterback, Russell Wilson has proven himself at the professional level for the past four years in Seahawks.
His mobility, decision-making ability, accuracy and intelligence on the field are unique, and a major reason the Seahawks have made it to the playoffs in all four seasons since Wilson took over as the starter.
That has included two Super Bowl appearances and one title win, which occurred in 2013.
Wilson is certainly not one to sleep on in these playoffs, even though the Seahawks are the sixth seed in the NFC.
They are always a force to be reckoned with as long as Wilson is behind center.
6. Carson Palmer
Carson Palmer seems to have finally found his home in Arizona, leading his Cardinals to a 13-3 record, and on pace to make a Super Bowl run.
After a disappointing ACL tear ended his season in 2014, and the practically the Cardinals' season for that matter, it's great to see Palmer stay healthy through a full season and display to all of us what he's capable of.
His 4,671 passing yards are good for fourth among NFL quarterbacks, and he has a solid running back in David Johnson, who provides balance on the ground.
The Cardinals are the most complete team heading into the divisional round and are a my pick to win Super Bowl 50.
He may not have the post-season history and experience a lot of these other quarterbacks do, which is why he sits at number six on the list, but his accuracy and consistency in leading his team down the field make him just as big of a threat in these playoffs.
Good luck handling that, Green Bay.
7. Peyton Manning
There's no argument that Peyton Manning is one of the best quarterbacks to ever play the game.
But this power ranking is not based on his history; it's reflective of the quarterback's ability and potential at the present time to carry his team to a Super Bowl 50 victory.
His numbers are uncharacteristically low this year with a quarterback rating of just 67.9.
His best times are behind him, and I simply don't believe Manning has the arm strength and efficiency right now to take his Broncos all the way. Not to mention, he hasn't started a game since Week 10.
He has been dealing with foot and rib injuries since then but will take over the starting job from Brock Osweller to begin this playoff run.
The Broncos host the Pittsburgh Steelers in the Divisional round of the playoffs this week, which I foresee being a defensive battle in frigid weather.
I expect Manning to take care of the ball, but his numbers will be minimal.
8. Alex Smith
Alex Smith has led his Kansas City Chiefs to 10 straight victories, including an impressive win over the Houston Texans in the wildcard round last weekend.
Smith is certainly not a flashy quarterback that will put up big numbers on a weekly basis, but he is one of the best at managing the game and doing whatever is necessary to get the victory.
His record this year speaks for itself, and with the way the defense has been playing, he hasn't had to do much, other than protect the football and manage the game clock.
Among a list of seven other distinguished quarterbacks, he may be at the bottom of the rankings, but that doesn't mean you should count the Chiefs out this year.
They may just stun the Patriots on their own home turf this weekend. Upset Alert!