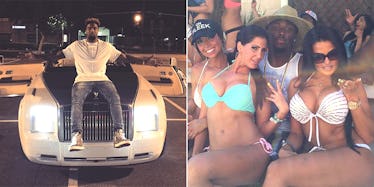 NFL Players Really Do Live Like Ballers During The Offseason (Photos)
Instagram
The NFL offseason is an interesting time for all 32 teams.
But mostly, it means free time for 20-something millionaires to do whatever the f*ck they want with their enormous contracts.
Much like the new HBO show "Ballers," things can get quite lit, or completely screwed on a whole other level.
There's nothing wrong with players enjoying the perks that come with hard work, but this is also the time you find out who's ready to handle the money and the fame.
Luckily, most guys in the league today are keeping it together and swagging off in the process.
During the NFL offseason, players can finally come together...
And celebrate the fact that they're all filthy rich!
Usually, that means shutting it down at a pool party...
Or leaving with every single girl there.
This is just the lifestyle they worked so hard to attain!
Guys like Dez Bryant, who just signed a $70 million contract, are riding around in Phantoms...
While his friend Odell Beckham, Jr. is pulling up in a Ferrari.
Just kidding, OBJ has a Rolls Royce, too!
His teammate Victor Cruz always takes the heli to the Hamptons.
And if you didn't know, JJ Watt is a private jet kind of guy...
But he'll take this old thing out for a spin if he needs to.
Still, nobody's doing it like Antonio Brown on the Steelers.
Signature black N yellow #Phantom from @RollsRoyceCars, it's time to go work #trainingcamp #thanku #SteelersNation pic.twitter.com/vVeM8E8zDH — Antonio Brown (@AntonioBrown84) July 24, 2015
Then again, there's LeSean McCoy, who just signed with the Bills, who only surrounds himself with women...
He even throws all-female parties just for his fans!
Of course, the offseason isn't all about stunting and making sure the women notice you.
It's also the time for players to start spending more time with their significant others.
Nobody's been going harder than Russell Wilson and Ciara.
They're doing some next-level cuffing sh*t.
At least he took all the boys out to Hawaii for a mini-vacation.
It looks like Richard Sherman, Bruce Irvin and Bobby Wagner all had a great time.
For most players, like DeSean Jackson, it's the only time of the year to ride a horse on the beach.
Ever since "the catch," Odell Beckham refuses to dive anymore.
A lot of football players actually play golf, like Joe Haden.
JJ Watt can often be seen crushing the ball...
But nothing beats when he goes to a Zach Brown concert.
No player has a crazier hobby than Seattle's Jimmy Graham.
I wonder how the Seahawks feel about him flying planes?!
And what are the Steelers thinking with all of these dunks Le'Veon Bell is throwing down?
Rob Gronkowski hasn't stopped partying once since winning the Super Bowl.
But why should he really have to stop?
He's still drunk from the "Entourage" movie!