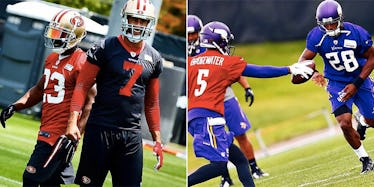 Back To Business: How Much Do NFL OTAs Really Matter?
Instagram
For most NFL teams, Organized Team Activities (OTAs) commenced late May and will conclude this week.
As part of the collective bargaining agreement, teams may hold up to 10 days of OTAs, under the restriction that no live contact is permitted.
Without contact, teams use this time to run new drills and introduce new schemes for the upcoming season.
It's easy to understand why there is a debate on the effectiveness of OTAs offering any significant insight into a player's ability in the regular season.
On the positive side, OTAs are great for team bonding and getting players on the same page.
On the negative side, even without player-on-player contact, significant injuries can still occur. Take former 49ers star receiver, Michael Crabtree, for example, who missed most of the 2013 season due to a torn achilles suffered during OTAs.
From a team perspective, yes, OTAs are important. Although voluntary, players are expected to participate in OTAs, with some receiving contract incentives for attending.
This is also a time for undrafted free agents to make an impression and potentially gain a spot on a team's roster.
Green Bay Packers linebacker Clay Matthews, for example, practiced as inside linebacker during this year's OTA after being moved from the outside near the end of last season.
Although his success inside was more than expected, the late-year switch offered little time for Matthews to really learn the position.
The extra time at the OTA before the start of training camp gave Matthews the opportunity to feel comfortable in his new role before a full-fledged practice.
From a fan's perspective, I wouldn't draw any grandiose conclusions from OTAs. Any reports on how a specific player performed during an OTA shouldn't be taken any more seriously than you would take Carrot Top suddenly releasing a hip-hop album.
With no pads and no contact, OTAs are little more than a game of high school flag football, and it's unlikely anyone will remember which players shined this week when the regular season rolls around.
Until training camp starts and we are able to gain real insight into how a player might look during the upcoming season, OTAs give us something to talk about — and that's about it.
Either way, here are a just few takeaways from this year's OTAs:
The Buffalo Bills' QB struggles could last all season
EJ Manuel and Matt Cassel rotated routes in the third OTA open to the media, but neither looked overly impressive.
Cassel was reportedly off-target for most of practice, and Manuel looked only slightly better. Coach Rex Ryan said little about the QB situation, commenting only that the team had not reached any firm conclusions on which player would be the starter.
Marcus Mariota is looking like a future of the Titans
The Tennessee Titans' newest QB showed promise during organized team events this week.
If there's one thing to take seriously during OTAs, it's how rookie players — especially QBs — work with the team.
It's reported that Mariota's accuracy, grasp of the new offense and chemistry with his teammates all looked on point this week.
We'll see what happens come regular season, but for now, Mariota might just be what the doctor ordered for the Titans.
The Patriots are now using two tight-end combinations
Tom Brady took the opportunity to use time at the Patriots' OTAs to work with the two tight-end offensive combination.
The Pats are playing with the option of keeping both Rob Gronkowski and Scott Chandler on the field at the same time in the regular season.
Each TE worked individually with Brady over the course of the OTAs, as well as in group combinations. We'll see if the Pats use this strategy come August.
Although OTAs don't tell us much, we'll happily fill ourselves on OTA news until the real fun starts at training camp. But, as a fan, take any assumptions you hear during OTAs with a grain of salt.
On a lighter note, just over two months until pre-season football is back in action, and we can talk about things that actually matter.