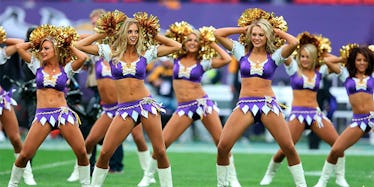 The NFL Makes Over $7 Billion, But Only Pays Some Cheerleaders $5 An Hour
Getty Images
The NFL is the undoubted king of American sports.
As you'd expect, that popularity translates to dollars, but not much sense, when it comes to the way the league treats a certain group of its employees.
Despite the $7.2 billion in revenue that all NFL teams share, the 25 clubs who employ cheerleaders cannot find the cash to pay them a minimum hourly wage.
In some cases, cheerleaders are paid nothing for numerous appearances.
Just last September, the Oakland Raiders paid a $1.25 million settlement after a class-action lawsuit was filed against the team by a pair of former "Raiderettes."
According to the LA Times, the two cheerleaders' case alleged the Raiders paid them under $5 an hour, and when the cheerleaders got paid, there were not given their money in a timely manner.
The Raiderettes were not even reimbursed for expenses they'd use for their jobs.
This past March, the Tampa Bay Buccaneers agreed to pay up to $825,000 to settle a class-action action lawsuit levied against them by 94 cheerleaders.
One cheerleader, Manouchcar Pierre-Val, says she was paid just $100 per game and went unpaid for extra duties like posing in the Buccaneer swimsuit calendars or showing up for charity events.
Pierre-Val's case appeared to be built on a simple premise. She told the Tampa Bay Times back in March,
If you work for someone, you deserve to be compensated for the work.
It is, indeed, a simple concept, but one that many teams seem to have trouble grasping.
Cheerleaders from the Cincinnati Bengals, Buffalo Bills and New York Jets have filed lawsuits against their teams. A former cheerleader for the Baltimore Ravens, who remained anonymous provided a tell-all interview to Deadspin.
That interview revealed head-scratching details of what the life of an NFL cheerleader can be like, such as allegations that Ravens cheerleaders are required to buy 100 copies of the swimsuit calendars that they themselves posed for, and that they had to ride an 18-hour ride from Baltimore to New Orleans for the Super Bowl.
Head-scratiching, because you'd just have to wonder at some point. Why do NFL teams find it so hard to pay these women a minimum wage, let alone a decent pay rate for the work that, ultimately helps promote a team's brand?
What's the big deal?
A video breakdown (below) of the economics of NFL cheerleading, done by Bloomberg Business last year, explains why the answer to that question could easily be "because they can."
For starters, as Deadspin's tipster says the part-time job is still something that, at the end of the day, cheerleaders enjoy.
The gameday experience — that's what keeps people coming back.
Furthermore, NFL teams treat cheerleaders like independent contractors and seasonal part-time workers, which exempts teams from having to pay them a minimum wage
You'll have to forgive some, though, if they react to that as a cheap excuse. Bloomberg Surveillance host Tom Keene came to a sarcastic understanding of the situation when it was explained to him. He said,
So these are like migrant workers out in California in the 1930s.
The snark is excusable when you consider just how cheap it would be to pay all cheerleaders in the league $10 an hour, estimated by Bloomberg to cost $7.6 million collectively among the NFL's teams.
At the very least though, progress has begun.
The Buccaneers, for instance, started paying their cheerleaders a minimum wage once they became involved in their aforementioned suit.
The Raiders, on the other hand, have agreed to pay their cheerleaders bi-weekly, instead of withholding pay until the end of the season.
In fact, just last month, California's governor signed an amendment that requires the state's sports teams to pay all cheerleaders a minimum way.
In other words, there are teams out there, after significant teeth pulling, who are now willing to treat cheerleaders like human beings. Hip, hip, hooray!