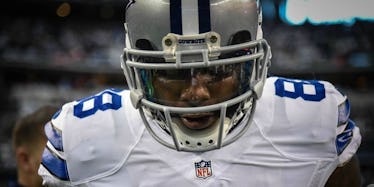 Zero Chill: The NFL Just Taught Dez Bryant What A Completed Catch Is
During the divisional round of the NFL playoffs last season, there was a lot of controversy surrounding Dez Bryant's infamous non-catch during Dallas' 26-21 loss to the Packers.
You remember the play well.
Bryant appeared to beat his defender and have control of the football before he hit the ground, but the officiating crew ruled it an incomplete pass.
Well, the NFL just released a video in an attempt to offer a better explanation for what will constitute a completed pass in 2015, and it did so by throwing some major shade at Dez Bryant and the Cowboys.
The video starts off by showing what a successful completion is, using Texans receiver DeAndre Hopkins, but then it segues to what is not a completed pass, using the Bryant play from last season as an example.
The language pertaining to a catch was clarified to provide a better understanding of the rule for the 2015 season: https://t.co/LT3ziunpyk — Troy Vincent (@TroyVincent23) August 25, 2015
As if it wasn't enough for Dez to feel like he got cheated last season, he now gets to be an example for what is definitively not a catch by NFL standards.
Citations: Troy Vincent (Twitter)