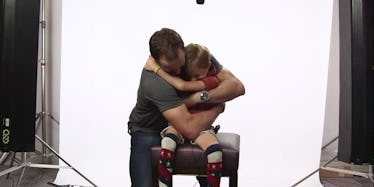 NFL Dads Surprising Their Kids For Father's Day Will Give You Major Feels
YouTube
This Sunday is Father's Day, which means dads everywhere will barbecue with their kids and receive ties they don't want and will never wear.
But in all seriousness, regardless of how you celebrate Father's Day, it's important to take the day and recognize just how important a dad is in every kid's life. My dad continues to have a strong influence on my life, and the older I get, the more I realize how much he sacrificed and loved me when I was a kid.
For NFL dads, this is no different.
Sure, these dads are away from home for a good portion of the year, but the love and support they give their kids is evident. After watching the above video from Courtyard Hotels -- "The Official Hotel of the NFL" -- I'm sure you'll agree.
From taking their kids to the beach to giving them plenty of hugs and kisses, the things NFL dads like Drew Brees, Antonio Brown, Vince Wilfork and Ryan Kalil do for their kids make them all MVPs.
In the video above, you can see how touched the players are to hear their children talk about them with such love and admiration, but when they step out and surprise their children, you see just how much their kids truly love their dads.
This video sums it up, doesn't it? Father's Day should be about kids giving back to their dads, but fathers can't help but give everything to make sure their kids are the ones who get the real gifts.
Citations: Father's Day smiles delivered by their kids (YouTube)