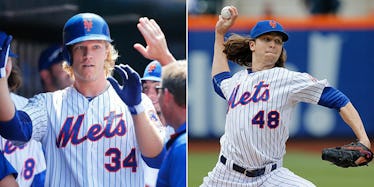 If The Mets Want To Make The Playoffs, They Should Let Their Pitchers Hit
Twitter/Facebook
Currently, the New York Mets are clinging to a half-game lead over the Washington Nationals for first place in the National League East.
And if they want to stay there, they're going to need big contributions from their starting rotation, both on the pitcher's mound and in the batter's box.
The Metropolitans haven't made a postseason since 2006, when they were dropped in seven games by the St. Louis Cardinals – memories of Carlos Beltran turning into a spectator still in full effect.
They haven't had a winning record since 2008, when they finished 83-79.
But since Terry Collins took the managerial reigns in 2011, things have slowly been improving.
After ending the season second to last in the division during his first two years in charge, the Mets have finished third and second, respectively, under Collins.
Still, though, the Mets are without an arsenal of big bats, and that will probably prevent them from putting any real distance between themselves and the rest of the pack.
Their starting pitching rotation, however, is much improved from years past, and those arms hold the keys to success in several ways.
While New York's starters have been lights-out at times, their bullpen has struggled to hold one and two-run leads later in games. The offense simply isn't providing enough of a cushion.
Which is why perhaps the most underrated impact the 2015 starting rotation is having in games is their production with the bat.
Here's why, in all seriousness, if the Mets want to end a nine-year playoff drought, they should let their pitchers hit at every opportunity.
To say the Mets' starting lineup can go cold at times, is like saying Lionel Messi is pretty good at this soccer thing.
The New York Mets rank in the bottom third of the National League in runs, hits, RBIs, batting average, on-base percentage and slugging percentage.
Despite their often anemic offense, the Mets are in first place.
This can be attributed to starters pitching late in games, as well as helping out their own cause on more than a few occasions.
Take for instance, the Mets' game against the Philadelphia Phillies on May 27, when top pitching prospect Noah Syndergaard – who fans have affectionately dubbed "Thor" – crushed a 430-foot home run.
I think Mets ace Matt Harvey had the most appropriate reaction to Thor's hammer blow.
And not only did the 22-year-old Syndergaard go 3-for-3 that day, he also pitched 7.1 scoreless innings in route to a 7-0 win.
Obviously, home runs by pitchers are rare – this was the first for the Mets since 2012 – but hitting, in general, has not been for the 2015 Mets rotation. Outings like Syndergaard's have come to represent much of what this New York Mets team is all about.
Pound-for-pound, Mets position players aren't that far ahead of pitchers when it comes to hitting.
Seeing Noah Syndergaard blast a home run gives some credence to the belief that Mets starting pitchers are actually better hitters than the eight position players behind them.
And a look at the numbers proves it's more than just barstool banter.
In 2015, the eight position players who have the most at bats for the New York Mets have a .250 batting average. The six starters in Terry Collins' rotation – Jacob deGrom, Bartolo Colon, Matt Harvey, Jon Niese, Noah Syndergaard and Dillon Gee – are hitting .191.
It doesn't take a mathematical genius to see .250 is higher than .191, but then you remember you're comparing the batting averages of pitchers to hitters and, well, the difference suddenly looks a lot slimmer.
Not a single position player has double-digit home runs this season, but every Mets starting pitcher, except for Matt Harvey and Dillon Gee, has at least one RBI.
27-year-old Jacob deGrom, who leads New York's starting pitchers in plate appearances, at bats and hits, went 3-for-3 in the Mets' 14-1 victory over the Milwaukee Brewers on May 16.
In addition to scoring one run and driving in another, the 2014 NL Rookie of the Year also struck out six and walked just one in six innings of work.
Ya, it's OK to smile a little, Jacob. It's pretty badass for a starting pitcher to dominate on the mound and at the plate.
deGrom also leads Mets starters in lowest ERA (2.42), most innings pitched (78) and strikeouts (81).
And you know it's real when Bartolo Colon is out here hitting for extra bases.
The 42-year-old Colon is having one of his best seasons in recent memory. While boasting an 8-4 record as a starter, Colon has surrendered just six walks in 75.2 innings. He also has 61 strikeouts in that time.
But one of the greatest pleasures this season – for all baseball fans, really – has been watching Colon's at-bats. If he's not striking out, while stumbling and losing his batting helmet all at once, then he's smashing an RBI double past Ichiro Suzuki.
Hitting during their own starts is one thing, but could Mets pitchers actually enter the game solely for offense?
On June 3, manager Terry Collins publically stated he wouldn't hesitate to use either Noah Syndergaard or Jacob deGrom as pinch hitters.
Yes, this was because he didn't have any left-handed hitters available on the bench that day, but the fact that he considers Syndergaard and deGrom to be better offensive options than a right-handed utility player speaks volumes.
Terry Collins says he might use Noah Syndergaard or Jacob deGrom as a pinch hitter tonight. No lefties on bench. — Adam Rubin (@AdamRubinESPN) June 3, 2015
There's also the fact that as of June 2, the Mets' pitching staff led the National League in batting average (.175) and hits (18).
And a few days before that, Collins said there was "no doubt" he'd consider using Syndergaard in any pinch-hitting situation.
As far as Syndergaard's opinion on stepping up to the plate to face opposing pitchers goes, well, he's definitely game.
I like to hit, it's fun. It's fun to compete against pitchers and see how far you can hit a baseball. It's something pitchers typically aren't good at. So when you succeed at it, it's kind of rewarding.
Yup, I'd say smacking a 430-foot blast is definitely a bit rewarding.
With 58 games played, we're on the cusp of the dog days of summer; when pretenders fall by the wayside and contenders put themselves in positions to make a run.
If the New York Mets plan to be one of the latter, then they're going to need their rotation to continue to produce when they start, and be ready to step up even when they don't.