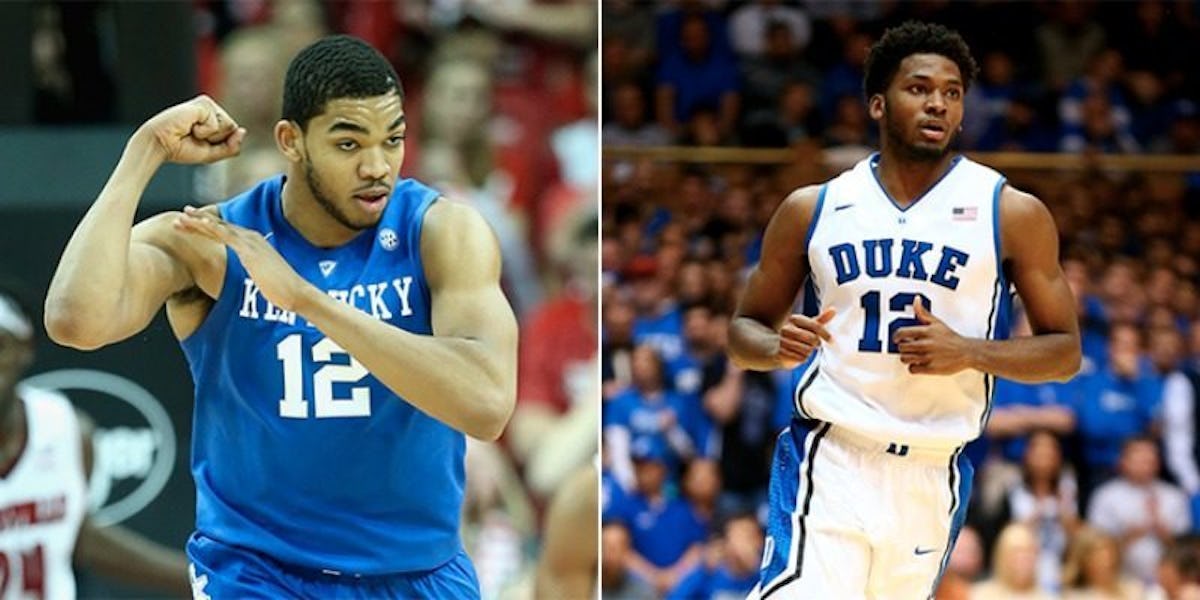 These Powerhouse Schools Produced The Most Players In The NBA Today
Getty Images
When you think college basketball powerhouses, the first programs that come to mind are probably Kentucky and Kansas, and with good reason.
These two juggernauts have the highest percentage of alums playing in the NBA today.
But what about after that?
You've got the Tobacco Road schools, sure, but there are more than a few programs you might not realize have given rise to a majority of the NBA talent crushing it on the hardwood today.
There are a total of 111 Division I programs that produced 360 of the 446 total players in the NBA this season, but there are just 23 schools credited with producing roughly 50 percent of all NBA players in 2015.
These are the select programs that probably groomed your favorite, currently-signed NBA players.
Georgetown (5)
Otto Porter Jr. '13, Washington Wizards Greg Monroe '10, Milwaukee Bucks Hollis Thompson '12, Philadelphia 76ers Jeff Green '07, Memphis Grizzlies Roy Hibbert '08, Los Angeles Lakers
Marquette (5)
Dwyane Wade '03, Miami Heat Jae Crowder '12, Boston Celtics Jimmy Butler ' 11, Chicago Bulls Steve Novak '06, Oklahoma City Thunder Wesley Matthews '09, Dallas Mavericks
Ohio State (5)
Jared Sullinger '12, Boston Celtics Evan Turner '10, Boston Celtics Mike Conley '07, Memphis Grizzlies Kosta Koufos '08, Sacramento Kings D'Angelo Russell '15, Los Angeles Lakers
Stanford (5)
Robin Lopez '08, New York Knicks Brook Lopez '08, Brooklyn Nets Josh Huestis '14, Oklahoma City Thunder Dwight Powell '14, Dallas Mavericks Anthony Brown '15, Los Angeles Lakers
University of Nevada, Las Vegas (5)
Rashad Vaughn '15, Milwaukee Bucks Christian Wood '15, Philadelphia 76ers Anthony Bennett '13, Toronto Raptors Joel Anthony '07, Detroit Pistons Lou Amundson '06, New York Knicks
Wisconsin (5)
Frank Kaminsky '15, Charlotte Hornets Devin Harris '04, Dallas Mavericks Sam Dekker '15, Houston Rockets Jon Leuer '11, Phoenix Suns Duje Dukan '15, Sacramento Kings
Georgia Institute of Technology (6)
Iman Shumpert '11, Cleveland Cavaliers Chris Bosh '03, Miami Heat Jarrett Jack '05, Milwaukee Bucks Thaddeus Young '07, Brooklyn Nets Anthony Morrow '08, Oklahoma City Thunder Derrick Favors '10, Utah Jazz
Louisiana State University (6)
Jordan Mickey '15, Boston Celtics Garrett Temple '09, Washington Wizards Johnny O'Bryant '14, Milwaukee Bucks Jarell Martin '15, Memphis Grizzlies Marcus Thornton '09, Houston Rockets Brandon Bass '05, Los Angeles Lakers
Michigan (6)
Glenn Robinson III '14, Indiana Pacers Tim Hardaway '13, Atlanta Hawks Nik Stauskas '14, Philadelphia 76ers Mitch McGary '14, Oklahoma City Thunder Jamal Crawford '00, Los Angeles Clippers Trey Burke '13, Utah Jazz
Michigan State (6)
Alan Anderson '05, Washington Wizards Draymond Green '12, Golden State Warriors Branden Dawson '15, Los Angeles Clippers Zach Randolph '01, Memphis Grizzlies Gary Harris '14, Denver Nuggets Adreian Payne '14, Minnesota Timberwolves
University of Southern California (6)
Taj Gibson '09, Chicago Bulls DeMar DeRozan '09, Toronto Raptors Dewayne Dedmon '13, Orlando Magic Nikola Vucevic '11, Orlando Magic OJ Mayo '08, Milwaukee Bucks Nick Young '07, Los Angeles Lakers
Wake Forest (6)
James Johnson '09, Toronto Raptors Jeff Teague '09, Atlanta Hawks Tim Duncan '97, San Antonio Spurs Chris Paul '05, Los Angeles Clippers Al-Farouq Aminu '10, Portland Trail Blazers Ish Smith '10, New Orleans Pelicans
University of Connecticut (7)
Kemba Walker '11, Charlotte Hornets Jeremy Lamb '12, Charlotte Hornets Shabazz Napier '14, Orlando Magic Andre Drummond '12, Detroit Pistons Charlie Villanueva '05, Dallas Mavericks Rudy Gay '06, Sacramento Kings Caron Butler '02, Sacramento Kings
Washington (7)
Spencer Hawes '07, Charlotte Hornets Isaiah Thomas '11, Boston Celtics Justin Holiday '11, Atlanta Hawks Tony Wroten '12, Philadelphia 76ers Terrence Ross '12, Toronto Raptors CJ Wilcox '14, Los Angeles Clippers Quincy Pondexter '10, New Orleans Pelicans
Syracuse (8)
Rakeem Christmas '15, Indiana Pacers Carmelo Anthony '03, New York Knicks Michael Carter-Williams '13, Milwaukee Bucks Tyler Ennis '14, Milwaukee Bucks Chris McCullough '15, Brooklyn Nets Jerami Grant '14, Philadelphia 76ers Dion Waiters '12, Oklahoma City Thunder Wesley Johnson '10, Los Angeles Clippers
Texas (8)
Cory Joseph '11, Toronto Raptors Myles Turner '15, Indiana Pacers Avery Bradley '10, Boston Celtics Tristan Thompson '11, Cleveland Cavaliers LaMarcus Alrdridge '06, San Antonio Spurs Kevin Durant '07, Oklahoma City Thunder DJ Augustin '08, Oklahoma City Thunder PJ Tucker '06, Phoenix Suns
Florida (10)
Joakim Noah '07, Chicago Bulls Udonis Haslem '02, Miami Heat David Lee '05, Boston Celtics Al Horford '07, Atlanta Hawks Bradley Beal '12, Washington Wizards Marreese Speights '08, Golden State Warriors Matt Bonner '03, San Antonio Spurs Chandler Parsons '11, Dallas Mavericks Corey Brewer '07, Houston Rockets Mike Milller '00, Denver Nuggets
Arizona (13)
Richard Jefferson '01, Cleveland Cavaliers Solomon Hill '13, Indiana Pacers Chase Budinger '09, Indiana Pacers Jordan Hill '09, Indiana Pacers Channing Frye '05, Orlando Magic Aaron Gordon '14, Orlando Magic Stanley Johnson '15, Detroit Pistons Derrick Williams '11, New York Knicks Jerryd Bayless '08, Milwaukee Bucks Rondae Hollis-Jefferson '15, Brooklyn Nets TJ McConnell '15, Philadelphia 76ers Andre Iguodala '04, Golden State Warriors Jason Terry '99, Houston Rockets
University of California, Los Angeles (14)
Kevin Love '08, Cleveland Cavaliers Norman Powell '15, Toronto Raptors Arron Afflalo '07, New York Knicks Ryan Hollins '06, Washington Wizards Kevon Looney '15, Golden State Warriors Kyle Anderson '14, San Antonio Spurs Russell Westbrook '08, Oklahoma City Thunder Luc Mbah a Moute '08, Los Angeles Clippers Matt Barnes '02, Memphis Grizzlies Jordan Adams '14, Memphis Grizzlies Trevor Ariza '04, Houston Rockets Darren Collison '09, Sacramento Kings Shabazz Muhammad '13, Minnesota Timberwolves Zach LaVine '14, Minnesota Timberwolves Jrue Holiday '09, New Orleans Pelicans
University of North Carolina (16)
Marvin Williams '05, Charlotte Hornets PJ Hairston '13, Charlotte Hornets Tyler Hansbrough '09, Charlotte Hornets Tyler Zeller '12, Boston Celtics Reggie Bullock '13, Detroit Pistons John Henson '12, Milwaukee Bucks Wayne Ellington '09, Brooklyn Nets Kendall Marshall '12, Philadelphia 76ers Harrison Barnes '12, Golden State Warriors James Michael-McAdoo '14, Golden State Warriors Danny Green '09, San Antonio Spurs Raymond Felton '05, Dallas Mavericks Vince Carter '98, Memphis Grizzlies Brandan Wright '07, Memphis Grizzlies Ty Lawson '09, Houston Rockets Ed Davis '10, Portland Trailblazers
Duke (18)
Kyrie Irving '11, Cleveland Cavaliers Mike Dunleavy '02, Chicago Bulls Luol Deng '04, Miami Heat Josh McRoberts '07, Miami Heat Justise Winslow '15, Miami Heat Lance Thomas '10, New York Knicks Miles Plumlee '12, Milwaukee Bucks Jabari Parker '14, Milwaukee Bucks Jahlil Okafor '15, Philadelphia 76ers Kyle Singler '11, Oklahoma City Thunder JJ Redick '06, Los Angeles Clippers Austin Rivers '12, Los Angeles Clippers Rodney Hood '14, Utah Jazz Mason Plumlee '13, Portland Trail Blazers Gerald Henderson '09, Portland Trail Blazers Seth Curry '13, Sacramento Kings Tyus Jones '15, Minnesota Timberwolves Ryan Kelly '13, Los Angeles Lakers
Kansas (19)
Sasha Kaun '08, Cleveland Cavaliers Kirk Hinrich '03, Chicago Bulls Marcus Morris '11, Detroit Pistons Kelly Oubre Jr '15, Washington Wizards Drew Gooden '02, Washington Wizards Thomas Robinson '12, Brooklyn Nets Joel Embiid '14, Philadelphia 76ers Brandon Rush '08, Golden State Warriors Nick Collison '03, Oklahoma City Thunder Paul Pierce '98, Los Angeles Clippers Cole Aldrich '10, Los Angeles Clippers Mario Chalmers '08, Memphis Grizzlies Darrell Arthur '08, Denver Nuggets Jeff Withey '13, Utah Jazz Markieff Morris '11, Phoenix Suns Cliff Alexander '15, Portland Trail Blazers Ben McLemore '13, Sacramento Kings Andrew Wiggins '14, Minnesota Timberwolves Tarik Black '14, Los Angeles Lakers
Kentucky (20)
Patrick Patterson '10, Toronto Raptors Michael Kidd-Gilchrist '12, Charlotte Hornets Aaron Harrison '15, Charlotte Hornets James Young '14, Boston Celtics Jodie Meeks '09, Detroit Pistons John Wall '10, Washington Wizards Nerlens Noel '13, Philadelphia 76ers Terrence Jones '12, Houston Rockets Trey Lyles '15, Utah Jazz Eric Bledsoe '10, Phoenix Suns Archie Goodwin '13, Phoenix Suns Devin Booker '15, Phoenix Suns Brandon Knight '11, Phoenix Suns DeMarcus Cousins '10, Sacramento Kings Willie Cauley-Stein '15, Sacramento Kings Rajon Rondo '06, Sacramento Kings Karl-Anthony Towns '15, Minnesota Timberwolves Tayshaun Prince '02, Minnesota Timberwolves Anthony Davis '12, New Orleans Pelicans Julius Randle '14, Los Angeles Lakers
Citations: Where the NBA Players Come From (Collegiate Basketball News), Nearly half of all NBA players come from these 23 schools (Business Insider)