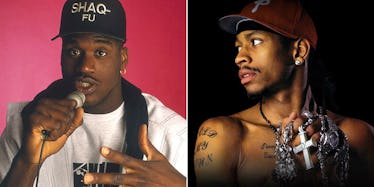 The Entire Hilarious History Of NBA Players Trying To Become Rappers
Tumblr
Ever since the 90s, there's always been a mutual respect between NBA players and rappers.
The influence they share on culture is pretty similar -- as is their money. Plus, they be up in the same clubs trying to do the same damn thing.
Besides that, it's safe to say most NBA players want to become rappers and vice versa.
Some guys in the league today, like Damian Lillard and Iman Shumpert, have some pretty serious lyrical talent, but will anybody ever take them seriously?
They're not the only ones who've taken shots at music careers, and what we've learned over the years is there has not been too much widespread success. Or talent.
1994: Shaq becomes the first (and only) NBA player to go platinum with his debut album, Shaq Diesel.
His debut album not only went platinum, but two tracks sold over 500,000 copies each and went gold.
1994: B-Ball's Best Kept Secret became first compilation album of NBA players rapping.
Gary Payton, Jason Kidd, Brian Shaw, Shaq and countless others appeared on this album filled with random tracks by NBA stars.
Cedric Ceballos might not have been the most talented out of the bunch, but his single featuring Warren G, "Flow On," was by far the best.
1994: Gary Payton sounds exactly like Too Short.
It must be an Oakland thing.
1996: Shaq drops a banger with "Can't Stop The Reign."
Throughout the 90s, Shaq had a steady flow of music with some amazing collaborations. He worked with the likes of Biggie Smalls (who jumped on the remix) and he even had a forgettable song with Michael Jackson.
1998: Kobe does a verse for Brian McKnight's "Hold Me."
Kobe actually met his wife, Vanessa, on the set of his music video for "K.O.B.E.," his song with Tyra Banks. That song was terrible.
1999: Chris Webber releases his album, 2 Much Drama.
It was a solid attempt at the rap game, and Webber did have production credits for two Nas tracks.
2001: Allen Iverson never releases an album because of the NBA.
After Iverson dropped the first single off the album, David Stern put his foot down and made sure AI never released the project.
2006: Ron Artest wins his first championship and releases My World.
The track "Champions" is actually very catchy and featured in NBA 2K11.
2007: Tony Parker drops a song with Fabolous.
Fabolous is one of the most consistent rappers of our era, but this collab with Tony Parker was questionable.
2011: Rashad McCants tries to reinvent himself.
Changing your name from Rashad McCants to King Suni Blac might not be the wisest decision.
2011: Lou Williams starts collaborating with your favorite rappers.
Lou Will, who is now Drake's favorite player, has always had respect from rappers far and wide. He even has his own song with 2 Chainz and Meek Mill.
2011: Delonte West gets bored during the NBA lockout and drops a track.
When he's not being a hot boy, he's making some music. Some pretty terrible music, though.
2012: Steve Francis returns and drops a terrible song for us.
I would actually rather listen to Delonte West...
2012: Iman Shumpert tries to bring back the 90s with the Knicks.
Now that he's in Cleveland, you don't really hear any more music from Iman. What happened, Iman?
2012: Kevin Durant tries to start rapping.
It's a solid track, but KD just has no charisma on the mic.
2015: Is Damian Lillard the one to bring it back to platinum?
Damian Lillard has proved he's one of the most serious rap prospects coming out of the NBA in recent years.
His #FourBarFriday on Instagram is popular with a lot of people on social media, and he even got Joey Bada$$ to kick him a line.
And in an interview with CSNNW, the young star showed he believes he can be the one to break through. He said,
If my profile continues to increase, I think I can go platinum with my music. Not to knock anybody else who has done it, but I can actually rap. I have a story to tell. It's not going to just be about basketball. I have more content than that. With the way I know I can get down, and the producers that I'll align myself with, there's no reason not to think I couldn't go platinum. Shaq proved it's possible.
Sorry, Dame. You're just not on the level of Shaq.