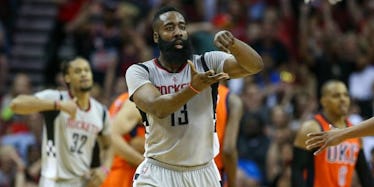 NBA Players Are Obsessed With This Pre-Game Sandwich, And You Already Eat It
USA TODAY Sports
What's the one food you can't live without?
Like, if someone had a gun to your head, and you had to pick one thing to eat at every meal for the rest of your life, what would it be?
Well, if you were an NBA player, then your answer would be surprisingly, well, boring.
Tuesday, ESPN's Baxter Holmes wrote just shy of 4,000 words on the most legendary, and popular, food in NBA history.
No, NBA ballers don't swear by filet mignon or lobster tails, they'd rather, nay, insist on eating a peanut butter and jelly sandwich.
I know, crazy.
According to ESPN's Holmes, the NBA's elite crave one sandwich in order to perform at their peak physical best, and that sandwich is the tried and tested PB&J.
So, how did this phenomenon come about? Well, apparently, it all started with the 2007-2008 Boston Celtics.
According to Holmes, an unidentified Celtic said to the team's strength and conditioning coach,
Man, I could go for a PB&J.
In response to hearing this statement, then-Celtics forward Kevin Garnett, a 15-time NBA All-Star, said,
Yeah, let's get on that.
After he ate a peanut butter and jelly sandwich that night, Garnett crushed it on the court, which inspired him to say afterward,
We're going to need PB&J in here every game now.
The Boston Celtics went on to win the 2007-2008 NBA championship, and the whole world now knows what fuel they used to get there.
This is how legends are born, and how a sandwich goes from being known as a poor college student's gourmet meal to a professional athlete's high-performance requirement.
Little by little, the rest of the NBA got hip to what the Celtics were eating for a pre-game meal, and it wasn't long before pretty much every locker room in the Association reportedly offered PB&J sanders for players.
According to Holmes' article, you can count the Lakers' Brandon Ingram, the Hawks' Dwight Howard, the Knicks' Kristaps Porzingis and the Thunder's Russell Westbrook among those who require peanut butter and jelly sandwiches as a pre-game meal.
Speaking on the NBA's PB&J phenomenon, Dr. Cate Shanahan, the LA Lakers' nutritionist, said,
The peanut butter and jelly sandwich is absolutely never going to not be in the NBA. And I feel confident saying never.
In his ESPN feature article, Holmes dives deep into the actual nutritional benefits of the PB&J.
However, he proves the psychological impact the sandwich now holds in the NBA far outweighs the reality of how "good" the dish may or may not be for players.
Speaking on eating a peanut butter and jelly sandwich for the first time in the Unites States, Latvian-born superstar Kristaps Porzingis said,
I fell in love.
Even NBA commissioner Adam Silver has weighed in on the topic. Asked about the NBA's PB&J obsession, Silver replied,
Our official stance is that it is a healthy snack.
Good luck trying to take away an NBA All-Star's regimented pre-game meal of choice.
Citations: The NBA's Secret Addiction (ESPN)