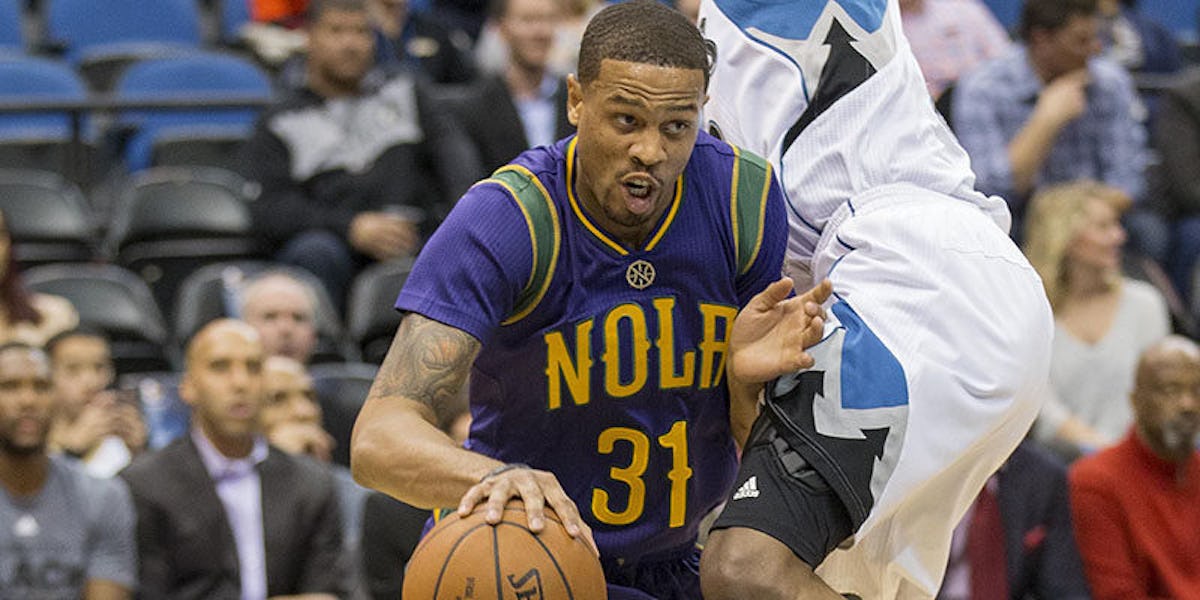 NBA Player Dies After Getting Shot While Alledgedly Breaking Into An Apartment
USA Today Sports
New Orleans Pelicans guard Bryce Dejean-Jones died after being shot in the abdomen during the early hours of Saturday morning.
Dejean-Jones, a former player for Iowa State University who went undrafted in the 2015 NBA Draft, appeared in 14 games for the Pelicans this year, starting 11 of them. Just this February, he was awarded a three-year contract by the team.
The Pelicans sent out a statement mourning their loss,
It is with deep sadness that the Pelicans organization acknowledges the sudden passing of Bryce Dejean-Jones. We are devastated at the loss of this young man's life who had such a promising future ahead of him. Our thoughts and prayers are with Bryce's family during this difficult time.
If you got to know & spend time with BDJ, you'd feel numb throughout your whole body from this news. Prayers up for his family #RIPBryce — Hallice Cooke (@Hallywood_03) May 28, 2016
According to The Dallas Morning News, Dejean-Jones was shot after breaking into an apartment in Dallas, Texas around 3:20 am on Saturday.
The city's police department said in a statement,
[The resident] stated he called out to the individual, but was not answered. As the individual kicked the bedroom door, the resident fired his gun. The individual left the apartment and collapsed in the breezeway. The individual was transported to a local hospital where he died from his injuries.
Dallas police also told ESPN it appears the resident did not know the player.
Dejean-Jones was 23.
Update: May 29, 11:55 am EST
It appears that Dejean-Jones fate could have been the result of a misunderstanding.
According to the player's agent, Dejean-Jones was visiting his girlfriend, who lives in the same Dallas building where the shooting happened.
The agent, Scott W. Nichols, is quoted as saying,
He went to the wrong apartment unfortunately and I think he thought his girlfriend locked him out, so he was knocking on the door, banging on the door, it's locked. So one thing led to another.
A statement from Dallas police said Dejean-Jones was unarmed. According to Nichols, the player's girlfriend lived on the third floor and he was visiting her for his daughter's first birthday.
Dejean-Jones, a first time visitor, was shot on the fourth floor.
Citations: Pelicans guard Bryce Dejean-Jones dies after gunshot wound (ESPN), NBA player Bryce Dejean-Jones killed while breaking into Dallas apartment, police say (The Dallas Morning News), Pelicans G Dejean-Jones, 23, shot and killed (9news.com)