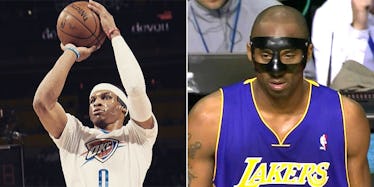 The Luck Of The Mask: The NBA's 6 Greatest Masked Performances
Instagram
The protective mask has a long and storied history in the NBA.
Wilt Chamberlain had a clunky facial protector that wrapped around his entire head in the 60s, and Rudy Tomjanovich rocked a hockey goalie mask in the late 70s, but beginning in the 90s, the protective mask got a complete revamp.
Gerald McHale is credited with inventing the first clear plastic facemask worn by today's NBA players.
He first designed a mask for Detroit Pistons bad boy Bill Laimbeer, who had his cheekbone destroyed right before the start of the 1990 season.
The rest, as they say, is history.
There have been a lot of players who have worn a mask since Laimbeer, the most recent being Oklahoma City Thunder star Russell Westbrook.
After fracturing his cheekbone a few weeks ago, Westbrook returned to action just days later, thanks to the mask, or rather, thanks to McHale. Westbrook went off, dropping 49 points en route to the 15th triple-double of his career.
In honor of Westbrook's ridiculous stat line, here are the NBA's six best masked performances of the past 25 years.
6. Kyrie Irving drops 41 on the Knicks at MSG.
Date: 12/15/2012
Stats: 41 points / 5 rebounds / 5 assists / 1 steal
After breaking his jaw following a hard tumble in Milwaukee, Kyrie Irving donned this Zorro-esque mask to guard his face.
Kyrie dropped 41 on the Knicks despite the mask and the injury, and this was his very first game wearing the protective gear.
Did I mention this was a then career-high for the second-year Cavalier?
5. Kobe Bryant hangs a 38 spot on the Kings in Los Angeles.
Date: 3/2/2012
Stats: 38 points / 8 rebounds / 3 assists / 1 steal
Kobe is Kobe, so it should come as no surprise he was able to score almost 40 points while hindered by a protective mask.
Sure, Kobe tallied 38 in part because he never passed the ball to his Laker teammates, but why should this night be any different than all others?
This particular mask was eventually auctioned off for charity, selling for $67,100.
4. LeBron James scores 31 points and makes Damon Jones wish he called in sick.
Date: 2/3/2005
Stats: 31 points / 10 assists / 2 rebounds / 3 steals
Recording a double-double in the NBA is impressive on any night of the week, but doing so while trying to protect an injury deserves special recognition.
And for some players, the mask can also be extremely uncomfortable; so much so, LeBron's former teammate, Zydrunas Ilgauskas, once threw his mask into the crowd in frustration.
But, we're talking about arguably the most gifted athlete to ever play the game.
Not only did LeBron score 31 points and dish out 10 assists, he added an exclamation point with this ridiculous posterization of Damon Jones.
This is the face LeBron would probably make after seeing he wasn't ranked higher on this list.
3. Rip Hamilton's 31 points give the Pistons a crucial 2-1 lead in the Finals.
Date: 6/10/2004
Stats: 31 points / 6 rebounds / 3 assists / 2 steals
As a result of breaking his nose at least twice, Richard "Rip" Hamilton wore a facemask for most of his professional career.
Unlike some players who couldn't deal with the added encumbrance, Rip turned in numerous performances that would make the original Phantom of the Opera proud. I see you, Michael Crawford.
His most important performance behind the glass took place during Game 3 of the 2004 NBA Finals.
Hamilton's Pistons were tied at a game a piece with the Lakers, and he shifted the series in Detroit's favor with a 31-point performance that helped earn them the win.
This would be the first of three straight wins to close out the Lakers in five games.
2. Horace Grant and his goggles double down on the Pacers.
Date: 12/26/1992
Stats: 30 points / 20 rebounds / 2 blocks / 1 assist / 1 steal
Just in case you thought the protective mask was a modern NBA marvel, Horace Grant -- and yes, I'm aware he's wearing some Howard Hughes aviation-type goggles, not a full mask -- set the standard for hindered performances back in the early 90s.
The General torched the Pacers in the low post by pulling down a gaudy 20 rebounds, as well as hanging a 30 spot on the offensive end.
This was clearly a sign of big things to come, as the Chicago Bulls would claim their third consecutive championship at the end of the season.
1. Russell Westbrook has the greatest game of his career.
Date: 3/4/2015
Stats: 49 points / 15 rebounds / 10 assists / 3 steals / 1 block
Despite the Oklahoma City Thunder clinging to the final playoff spot in the West and a fracture in his hand that sidelined him earlier this season, Russell Westbrook is firmly in the running for this season's MVP Award.
He's averaging career-highs in points (27.4), rebounds (7.1), assists (8.3) and steals (2.1), and doing it all without his partner in crime, superstar Kevin Durant, who's been out since October with a broken foot.
A few weeks ago, Westbrook fractured his cheekbone after taking a knee to the face. A few days ago, Westbrook returned to action, donning a protective mask.
Playing completely out of his mind, as he's done pretty much whenever he's on the court this season, Westbrook recorded a triple-double against the Sixers.
He fell just shy of 50 points, collected 15 rebounds and 10 assists and threw down one of the most vicious two-handed jams anyone's ever seen.
Citations: Russell Westbrook had the best game of his career 4 days after getting surgery (Business Insider)