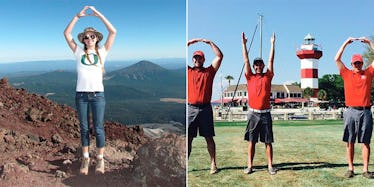 The National Championship Of College Campuses: Oregon vs. Ohio State
Look around the field during Monday night's college football championship between Ohio State and Oregon and you might realize that the game is about so much more than football.
Packed into the seats of the Dallas Cowboys' AT&T Stadium will be 100,000 fans coming from all corners of the country. They will be football fans, obviously. But perhaps, more importantly, many of them will also be students and alumni showing love for the places they've once called home.
The championship game will pack a whole lot of intrigue -- the novelty of a title game decided by playoffs, a potential storybook ending for Marcus Mariota and the prospect of Ohio State winning with a third string QB, for instance. It will definitely answer the question of which team is the best.
There's another question, however, that is just as interesting for all Ducks and Bucks of both powerhouse schools to answer, and it's pretty straightforward:
*Clears throat* -- Whose college experience is better?
With the help of a few Ducks who've had their fair share of good times in Eugene, and a couple of Buckeyes who've lived it up in Columbus, we've put together this side-by-side comparison for this year's national championship, the campus version.
Best place to eat when you're wasted
Oregon: Dough Co. 
"It's all about Dough Co... 30+ different Calzones and open 'til 3am." - @Kdot_little
Ohio State: BJ's Fat Sandwiches 
"They put everything on them… mac and cheese, chicken nuggets, corn dogs, motz sticks. That kind of stuff rocks my world." - @Lacey_Myers
The tailgating experience
Oregon
"We have parties and tailgates sponsored by both Red Bull and Yik Yak. We tailgate outside this one house in a huge backyard because we used to get kicked out of the parking lot by the stadium. At any one point, there are between 300-400 people there going nuts." - @Slee3lee
Ohio State
"Game day tailgating? There is nothing else like it, and at OSU, the tailgating is serious. People come the night before just to get a parking spot. It is a weekend affair." - @Lacey_Myers
Best part of attending your university
Oregon 
"The Ducks, man. Football is insane and people always party no matter what day of the week." - @Slee3lee
Ohio State
"BUCKEYE PRIDE. There is no other school on the face of this earth with as much school spirit, and we have the biggest alumni presence in the world. O-H!" - @Lacey_Myers
The Ratio
Oregon
"Girl to guy ratio is solid, can't give an exact figure, but there are always just as many, if not more, girls than guys at every party." - @A_jones805
Ohio State
"I'd say it's pretty equal. The guys are not only hot, but they're smart." - @Lacey_Myers
Top 3 Campus Icons
Oregon
1. Phil Knight - Nike chairman and cofounder
2. Ken Kesey - Author, "One Flew Over the Cuckoo's Nest"
3. Neil Everett - Anchor, "SportsCenter"
Ohio State
1. Eddie George - 1995 Heisman winner and 4x NFL Pro-Bowl
2. Jesse Owens - Olympic gold medalist
3. Harry Dracket - Windex Inventor
Looking for a good time on campus?
Oregon
"Monday, there are quarter beers at the strip club called the Silver Dollar, everyone goes, even girls. Tuesday, there's trivia at Rennie's. Wednesday is dollar beers at Taylor's." - @Slee3lee
Ohio State
"The Little Bar, Big Bar and Eddie George's are great places to watch the game and drink some beers." - @Lacey_Myers
Why your school is better
Oregon
"I don't want to get cocky because I'm very superstitious about this game, but our school is better because of all the city of Eugene has to offer in addition to academics and a damn good football program. Any outdoor activity you can imagine is available and, most importantly, our school's girls are waaaaay better looking!" - @A_jones805
Ohio State
Simple: "We are The Ohio State University." - @Lacey_Myers