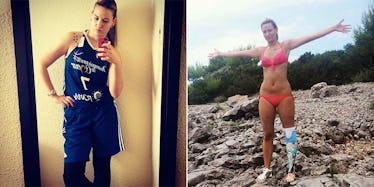 This Woman Became The First Disabled European To Play Pro Basketball (Photos)
You may have never heard of Natasa Kovacevic, a 21-year-old Serbian basketball star, but I promise you'll never forget her after hearing her unbelievable story.
This past Wednesday, Kovacevic made her debut for professional basketball team Red Star Belgrade of Serbia. In doing so, she became the first disabled European player to play for a professional sports team.
In September of 2013, while playing for a Hungarian team, Kovacevic was involved in a major team bus accident, which left her without a left leg from the knee down.
The team's coach and general manager both died in the accident, which left Kovacevic feeling lucky just to have survived.
After scoring five points in Red Star's victory this week, she said,
I'm really thrilled to be alive, let alone playing basketball again. It's like these two years did not happen at all.
This is how the promising Serbian basketball prodigy pulled herself back from the brink and is finally living her hoop dream.
Natasa Kovacevic is a 21-year-old professional basketball player for Red Star Belgrade.
She's competed at every level with the Serbian women's national team, starting with the U-16 team in 2008.
In 2012, Kovacevic won a bronze medal at the European U-18 Championships.
In June of 2013, the Belgrade native signed her first professional contract with Hungary's UNI Győr.
Less than four months later, Kovacevic had her left leg amputated below the knee as a result of a major team bus accident.
Refusing to give up on her basketball dream, Natasa begin her long road to recovery with the use of a prosthetic leg.
A little over a year later, her determination to get back to the pros earned her the title of FIBA Europe Youth Ambassador.
Kovacevic continued to work hard, despite the rigors of rehabilitation...
...and she quickly became a role model for aspiring female basketball players.
During her recovery, Kovacevic established a foundation to help young athletes pursue their dreams.
Kovacevic felt lucky to be alive after the accident, but she knew she had a greater purpose in life.
After recovery, Natasa busted her butt to get back to the professional level.
This month, she signed a pro-contract with her hometown club, Red Star Belgrade and became the first disabled European-born player to play for a professional team.
Through her accident and recovery, Natasa Kovacevic learned to live life to the fullest...
...and take advantage of every opportunity that comes her way.
In fact, the 21-year-old's motto is, "What doesn't kill you makes you stronger."
There are few young athletes who have shown more strength than Natasa Kovacevic.
Citations: nacika7 (Instagram), Natasa Kovacevic: Red Star debut for Serbian basketball star (BBC), Basketball player who had leg amputated makes return to pros (Winnipeg Sun), Natasa's Biography (Natasa Kovacevic Foundation)